PC925 Odyssey 12v 330 CCA Power Sport and Motorcycle AGM Battery
Total price with shipping
Free Priority Mail Shipping to USA.
Price:

$

170.87
No Tax

BatteryStuff Part #:
PC925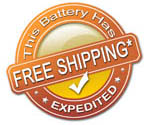 •This battery normally ships via USPS Priority mail, with expected* delivery time of 2-4 days, unless destination is within faster UPS delivery area.•
PC925 Odyssey 12v 330 CCA Power Sport and Motorcycle AGM Battery
Product Description
Odyssey (Drycell) batteries are military grade batteries and have endured rigorous tests that demonstrate their overall ruggedness and exceptional tolerance of mechanical abuse. The Odyssey battery offers higher cranking amps and additional reserve capacity as compared to the stock battery. Adding water is a thing of the past, and corrosion will cease to exist. A couple of other great attributes are vibration resistance and low internal discharge rate, thus offering physical endurance and superior off-season storage potential. A life span of 5 plus years can be expected if the Odyssey is fully charged and stored in the non-use season. An unbelievable 3 year warranty is standard on this Made in the USA battery.
*BatteryStuff understands the importance of getting a replacement battery right away and usually ships all batteries the same day as ordered if recieved before 1:30pm(pacific), however USPS does not guarantee delivery times with priority mail.
Features
Odyssey Maintenance Free Drycell Battery
Maintenance Free
Sealed design
No liquid Zero corrosion
Absorbed glass mat technology
Exceptional heat and vibration resistance
Very low self-discharge rate
Extremely High Cranking Amps
Extra heavy duty terminal design
3 year Warranty
Comments
FREE PRIORITY MAIL DELIVERY 48 STATES CUSTOMER NOTICE: In most Power Sports applications this battery mounts just as seen in the picture. Odyssey is the best battery you can buy, offering the most cranking power available of any battery its size, a whooping 900 amps for 5 seconds when full charged. The physical case size of the PC925 was designed for military applications and may not be a perfect fit for your application as it is sometimes a bit smaller; but more powerful; than the original battery. In some applications minor cable modifications maybe required.
RECOMMENDED ADAPTER

OA-pair
These are screw in terminal adapters for an Odyssey Battery. This gives you the ability to use automotive style connections.
Vehicles that PC925 works in
Review Summary

0 Average Rating

Rated

0

/

5

Stars from

0

customer reviews.

Write Your Own Review

Do you own the PC925? Please, tell us what you think about it. It helps us provide you with better products. Please note that it may take up to 72 hours for your review to appear.

Write a review


Technical Specifications
Length
6 13/16
Width
6 1/2
Height
4 7/8
Weight
23
Shipping Weight (lb.)
24
Operating Temperature
-40 to 140°F
Warranty
3 year
CA (@32°F)
500
Reserve Minutes 25A
27
Amp/Hr
28
C.C.A.
330
OEM Ref
PC925
20 Hr. Rate Amp/Hr
28
Max. Discharge Current (A) 5 sec.
900
Ambient Temp Charge
5
Charged
Ready to Install
Manufacturer:
Odyssey
Manufacturer Part #:
PC925
Made In:
USA

Order Line: 1-800-362-5397
M–F 6am–5pm PST

Tech Help: 541-474-4421
Fax: 541-471-6014
276 Tech Way, Suite A
Grants Pass, OR 97526