Overview

The Scorpion Stinger SSHVT-1-FPP is a lithium motorcycle battery that offers an increased performance and lightweight design over traditional lead-acid-based OEM batteries. The SSHVT-1-FPP was designed to replace the Harley Davidson 65987-97A, 65987-97B, and 65987-97C batteries.
The battery also replaces the sealed lead acid YTX20HL-BS and YTX20DHL batteries. This Scorpion Stinger SSHVT-1-FPP will easily crank your motorcycle, ATV, or scooter while weighing up to 60% less than the OEM lead acid.
Scorpion Harley Davidson Batteries are made by one of the largest battery manufacturers in the world and uses their prominence and experience to create the best products possible at the least possible cost.
Scorpion Battery was founded on the principle that superior quality batteries can be brought to the market at an economically pleasing price. Keeping true to that principle, Scorpion is proud to now offer the finest LiFePo4 Lithium powersports batteries available anywhere.
Scorpion Stinger lithium powersports batteries bring innovation to a new level. All Scorpion Stinger batteries use only the finest prismatic lithium cells, meaning that you get stronger starts, and more cycles than our competitors. Each battery contains its own Battery Management System built right into the battery ensuring that the internal cells stay balanced.
Features an onboard charge level display with the push of a button! The Scorpion Stinger Lithium Powersports batteries are simply the best lithium battery out there, and to top it off, they are offered at the best MSRP of most major Lithium LiFepo4 or Lithium Ion battery. For use in motorcycle, ATV, scooter, or UTV (side by side) starting applications.
As the graph below suggests, Scorpion Stinger batteries hold a higher resting voltage than other batteries. They start higher and finish higher, meaning that during times of heavy load they have the ability to crank the starter faster and longer than the competition. For starting batteries, most of the work happens in the first 5-10 seconds. More voltage throughout that range ensures quicker starts and less strain on the starting system.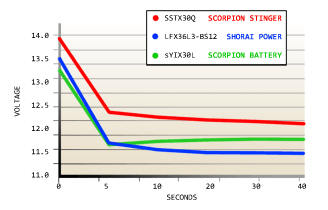 All the test batteries were fully charged and maintained for 48 hours on shop grade smart charger. Starting voltages achieved by fully charging batteries, then removing battery from any outside input for 24 hours. Each battery was tested under equal conditions at 72° F, using a true 100 AH load to simulate starting.

BatteryStuff understands the importance of getting a replacement battery right away. We usually ships all batteries the same day as ordered if received before 1:30pm (Pacific).

LiFePo4 Batteries are sensitive to heat. If the battery will be sitting directly on top of the engine and/or surrounded by the oil pan, we do NOT recommend using any Lithium Battery.

**Over-Charge protection will not protect from a faulty/old Voltage Regulator spiking Hi-Voltages to Battery. If you have a Pre-1990s Motorcycle replace your voltage regulator; it is over 30 year old and most likely broken by now. *Warranty applies ONLY to vehicles listed within our application list seen in the Works In tab. As per the manufacturer, ALL other use will void the battery warranty.


Features
The highest standard in Lithium powersports batteries.
Heavyweight punching power in a featherweight package.
Scorpion Stinger LiFePo4 batteries are lightweight and designed to outperform their equivalent OEM Lead Based Battery.
Superior Cranking Performance
Quickly Re-Charges after start in as little as 6 minutes
Integrated BMS works with existing charging systems on bikes 1990 and newer.**
Recommended to be maintained with a Powersport Lithium Charger. We suggest the OptiMATE TM-471.
Warranty: 2 year free replacement when used in prescribed applications*.