view large photo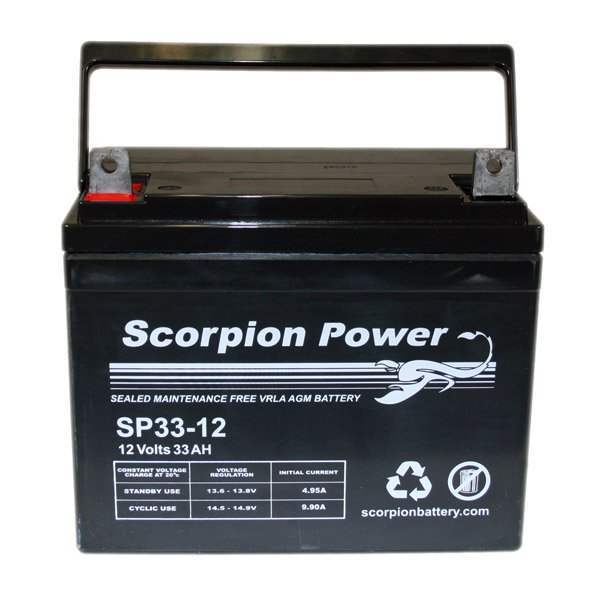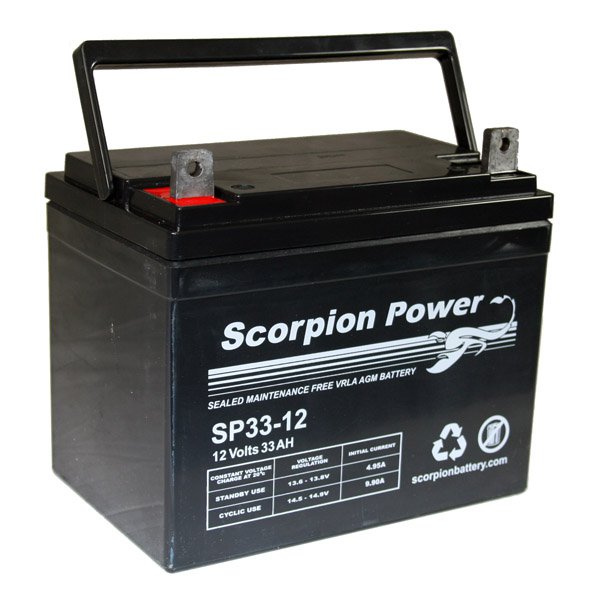 Scorpion 12v 33 AH Deep Cycle Sealed AGM U1 Battery - SP33-12
SP33-12
Free Priority Mail Shipping to USA.
Out of Stock
This battery normally ships via USPS Priority mail, with expected* delivery time of 2-4 days. MAKE SURE YOU USE A POST OFFICE DELIVERABLE ADDRESS! Customer will be responsible for shipping charges on returns for undeliverable addresses.
Replaces: UB12350, Pride BATLIQ1017, Sail 6 GFM, BATLIQ1001
---
Product InformationStore Part Number: SP33-12
Overview
Replaces: UB12350, Pride BATLIQ1017, Sail 6 GFM, BATLIQ1001
The Scorpion Power SP33-12 is an AGM Group Size U1 battery. The Scorpion Power SP33-12 battery is manufactured under the most versatile computer control battery formation system and technology to achieve the highest quality. The automated, computer controlled system provides programmed functions for steps of current, time, voltage, temperature, and event control to match the performance specifications of your application requirements.

NON-SPILLABLE by DOT (Department of Transportation), ICAO (International Civil Airline Organization) and IATA (International Airline Transportation Association) definitions.
Features
AGM design yields excellent Deep Cycle service Performance rating
Less than 3% per month standing self-discharge.
Maintenance-Free
Valve Regulated
Float and Cycle Use
AGM design may offer greater reliability in extreme use applications
BCI U1 Group Size AGM Battery
Leak Proof/Spill Proof
Comments
Typically AGM batteries DO NOT require a special battery charger as charge requirements are similar to wet cell or other types of maintenance free batteries. If you are unsure about the charger you need, please contact one of our technical advisers.


---
Tech Specs
Dimensions (LxWxH): 7.76 x 5.12 x 6.70 in
Weight: 23.58 lbs
Shipping Weight: 26 lb
DC Output Voltage: 12 V
Model: SP33-12
Manufacturer: Scorpion
Regulatory Approval: DOT, ICAA, IATA, IMDA
BCI Group: U1
20 Hr. Rate Amp/Hr: 33 A
Manufacturer Part #: SP33-12
Made In: Asia
Terminal Position:
---
Customers who bought this product also bought:
---
Reviews and Ratings
---