view large photo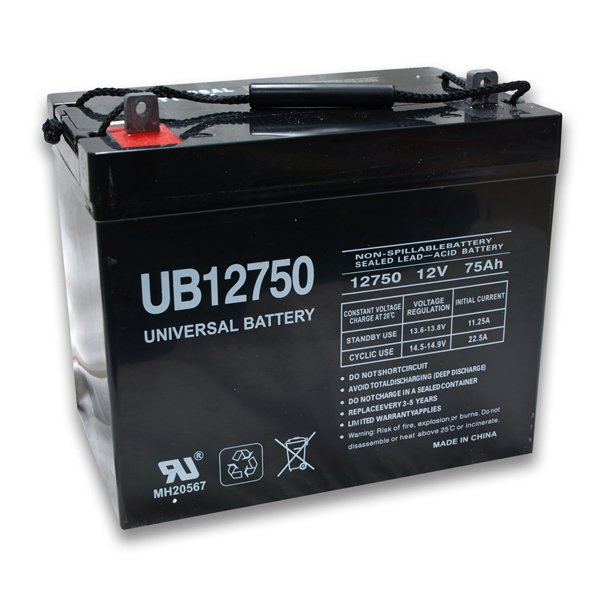 Universal 12v 75 AH Deep Cycle Sealed AGM Battery UB12750-45821
UB12750-45821
Was: $207.00
Sale Price:

$

128.95
- No Tax
In Stock
Shipping valid within the 48 contiguous states. Batteries ship from various warehouses and usually deliver within 7 working days.
---
Product InformationStore Part Number: UB12750-45821
Overview
The UPG (Universal Power Group) AGM Battery is a state of the art design battery made in Asia. This battery is a sealed (Non-Spillable) requires no addition of water during the life of the battery. The AGM Battery is TRUE DEEP CYCLE can be mounted in any position, requires no maintenance and may be transported by Air or Ground without any special handling regulations. When an AGM battery is charged no hazardous fumes escape the battery case, gases are processed within the battery itself.
Features
AGM design yields excellent Deep Cycle service Performance rating
Less than 3% per month standing self discharge.
Maintenance Free
Valve Regulated
Float and Cycle Use
AGM design may offer greater reliability in extreme use applications
Leak Proof/Spill Proof
1 Year Warranty
Comments
Typically AGM batteries DO NOT require a special battery charger as charge requirements are similar to Wet Cell or other types of Maintenance Free batteries. If you are in unsure about the charger you need please contact one of our technical advisors.

Batteries ship from various warehouses and usually deliver within 7 working days. Discount quantity pricing available please contact us by email or by phone during business hours.
---
Tech Specs
Dimensions (LxWxH): 10.24 x 6.61 x 8.27 in
Terminal Height: 9.13
Dimension Tolerance: +/- 0.04 in. (+/- 1mm) for length/width and +/- 0.08 in. (+/- 2mm) for height dimensions.
Weight: 53 lb
Shipping Weight: 56 lb
Maximum Charging Current: 22.5 A
DC Output Voltage: 12 V
Charge Voltage: 14.5 to 14.9 V
Float Voltage: 13.6 to 13.8 V
Manufacturer: Universal Power Group
Enclosure: ABS Plastic
Regulatory Approval: DOT, ICAA, IATA, IMDA
BCI Group: 24
Reserve Minutes 25A: 159
C.C.A.: 500 est.
20 Hr. Rate Amp/Hr: 75
Resistance, milliohms: 8
Warranty: 1 Year
Manufacturer Part #: UB12750-45821
Made In: Asia
Terminal Position:
---
Customers who bought this product also bought:
---
Reviews and Ratings
---
GREAT VALUE AND GOOD SERVICE
Pros: AWSOME BATTERY FOR THE PRICE
Cons: GOOD SERVICE IT ARRIVED WHEN THEY SAID IT WOULD
Other Thoughts: I WILL ORDER FROM HERE AGAIN :)
Written by Anonymous on Feb 14, 2014. Ownership: Don't Own. Knowledge Level: I know what an outlet is — (87 of 169 customers found this review helpful
Customer Service
Pros: When I recieved my Battery, it came damaged. I sent and E-mail to Battery Stuff and recieved a new battery. Thats what Customer Service is!!! I will be telling all the guys at the marina about this site... Joe D
Cons: none
Other Thoughts: It's good to see a company care about it's customers. I will be ordering more from you guys. Thanks again for the great service...
Written by pjitty on Nov 15, 2013. Ownership: Just Bought. Knowledge Level: AC/DC is more than a band — (95 of 174 customers found this review helpful
Very Pleased
Pros: I have other UPG batteries in use since November 2014. I am pleased so far. This new battery arrived in great shape. Inspected, measured voltage and put in service the same day. Was surprised of the fast shipment. Ordered on Saturday, received on Wednesday.
Cons: None
Other Thoughts: Ordered from Battery Stuff because of other reviews. I am pleased with the service.
Written by Frank on Mar 18, 2015. Ownership: Just Bought. Knowledge Level: Electricity doesn't scare me.. usually — (10 of 12 customers found this review helpful
---
Manuals & Tutorials