Shorai 6v/12v 2 Amp LFX Series Lithium Battery Charger Sho-BMS01
Price:

$

76.95
No Tax

BatteryStuff Part #:
Sho-BMS01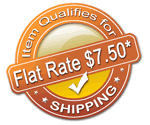 This Qualifies for FLAT RATE Shipping of $7.50 per order*
Shorai 6v/12v 2 Amp LFX Series Lithium Battery Charger Sho-BMS01
Product Description
The Sho-BMS01 is a Charge/Store dedicated battery managment system that is designed specifically for Shorai batteries. This charger has a 2 amp max charge rate, and it connects to your Shorai battery through the BMS 5 pin port on the LFX batteries. The charger has a selector for full charge, and for long term storage. Universal input of 100/240vac, 50/60 Hz makes this charger usable world wide.
The BMS01 Store Mode is specifically configured to maintain Shorai LFX batteries at their optimum levels during long term storage. When the Store mode is activated, the charger will bring the battery to an 80% level, and leave it there until the battery reaches 60%, at which point it will bring it back up to 80%. The 60-80% range is the ideal for LFX battery storage. The Charge mode of the BMS01 charger will bring the battery level up to 100% charge.
Features
100v to 240v ac 50/60 Hz Input
Store Mode for maximum battery life during long-term storage
Charge Mode and Long Term Storage
Battery connection cables for 12v Batteries
Comments
*Flat Rate shipping is for the lower 48 states only.
6 Volt Cable Not Included With the Charger

SHO-BMSCBL06
This cable is for charging the 6 volt Shorai Batteries and is not included with the charger.
Review Summary

4.00 Average Rating

Rated

4.00

/

5

Stars from

5

customer reviews.

Write Your Own Review

Do you own the Sho-BMS01? Please, tell us what you think about it. It helps us provide you with better products. Please note that it may take up to 72 hours for your review to appear.

Write a review
Technical Specifications
Part Number
Sho-BMS01
Length
4.5
Width
4.5
Height
1.5
Weight
1.58 lbs
Charge Type
CC/CV 14.4V Terminal
Output Voltage
6v & 12v
Output Amperage
2a maximum
Input
100v to 240v ac 50/60 Hz
1 Year Warranty
Model:
Sho-BMS01
Manufacturer:
Shorai
Manufacturer Part #:
Sho-BMS01
Made In:
Sho-BMS01
Order Line: 1-800-362-5397
M–F 6am–5pm PST

Tech Help: 541-474-4421
Fax: 541-471-6014
276 Tech Way, Suite A
Grants Pass, OR 97526