view large photo
PriorityStart! 12v ProMax HD Low Voltage Disconnect Switch - PSI-12V-PROMAXHD
PSI-12V-PROMAXHD
Free Priority Mail Shipping to USA *
Quantity
---
OR Simple-Click Checkout
---
In Stock
---
Product InformationStore Part Number: PSI-12V-PROMAXHD
Overview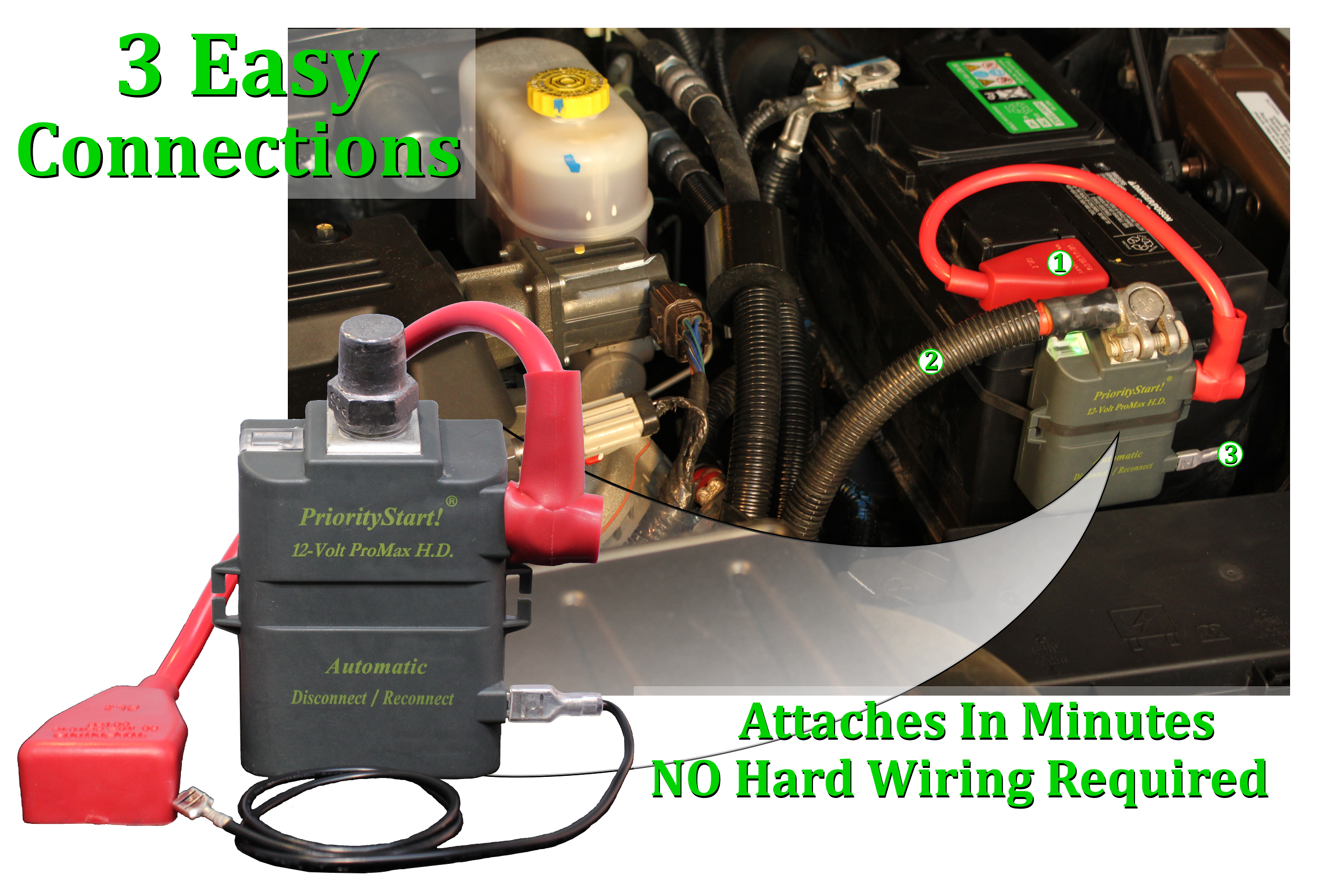 PriorityStart! is the only automatic computerized on/off protection system for your battery, alternator, and electrical system in the market today. If battery voltage drains below 11.7 volts when engine is off, it automatically DISCONNECTS the load, leaving starting power. The 12v PROMAX HD is recommended for Law Enforcement, Work trucks, Heavy Duty vehicles, and any vehicles with increased electrical/load demands.
To RECONNECT and START: simply step on the brake pedal, activateheadlights, or operate any other accessory, and starting power is RECONNECTED! No buttons to push, no switches to flip, and there is no hardwiring. It's positive to positive, with a ground wire, and you're done.
Universal design fits top and side post batteries. No hardwiring or modifications required. Transferable. Manufactured to ISO, USCG, and SAE standards.
Extra Benefits over the Standard 12v ProMax Unit:
Heavier Load Capacity: Up to 1600 starting amps/400 continuous amps

60% increase to contact disc
60% increase to spine gear & holding nut
40% increase to jack screw
40% increase to busses

Heavier ground wire connector thicker/stronger for heavier duty vehicles
Top post contact material raised/increased to improve GM connections
Gear cover for added strength & durability
Motor cover for added strength & durability
Higher intensity LED on top, improved visibility
Redesigned circuit board
Features
Automatic battery reconnect: Convenient, safe
Easy to attach: 3 connections
Maximizes battery life: Maintenance free
Handles 1,600 starting amps/400 continuous amps
Designed for under-hood temperature extremes
Engine run protection
Transferable from Vehicle to Vehicle
Universal design fits both top & side-post batteries
Ability to use accessories when engine is off
Engine Run & Hazard Light Protection
Universal Design Fits Both Top-Post or Side-Post Batteries
Comments
*Flat Rate shipping is for the lower 48 states only.
---
Tech Specs
Dimensions (LxW): 5 x 3 in
Depth: 1.25
Weight: 1.5 lb
Model: PSI-12V-PROMAXHD
Manufacturer: BLI/Priority Start
Shipping Weight (lb.): 3
Regulatory Approval: Certified to SAE J1171, ISO 8846, CE, USCG Certified
Manufacturer Part #: PSI-12V-PROMAXHD
Made In: USA
---
Customers who bought this product also bought:
---
Reviews and Ratings
---
Manuals & Tutorials