Pulse Tech 12v 2.5 Amp Xtreme 2 Bank Battery Charger X2
Price:

$

189.00
No Tax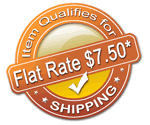 This Qualifies for FLAT RATE Shipping of $7.50 per order*
Fully automatic, microprocessor controlled Xtreme charger will safely charge, desulfate and then Maintain your batteries. Includes two each quick connect Alligator clips, and two each ring harness.
Pulse Tech 12v 2.5 Amp Xtreme 2 Bank Battery Charger X2
Product Description
Xtreme Charge is well suited to both AGM and other maintenance free batteries. The combination of patented pulse technology and the patented charging algorithm will typically allow it to more completely charge all regular and high performance batteries, while also maintaining an excellent charge profile suitable for other types of flooded or standard batteries.
Pulse Tech's unique technology will increase the duty and life cycle of all sizes or types of 12 volt lead acid batteries by minimizing the size and amount of sulphation on the lead plates, therefore allowing the battery to accept as much charge as possible.
The XC 100-P patented pulse will help new batteries stay in as new condition, as well as improve older batteries' charge capacity back up to as new standards. You can expect duty cycles to be extended 3-5 times over similar batteries charged on a standard charger.
This charger is suitable for all flooded, gel, AGM and other maintenance free batteries.
Features
Fully Automatic
Microprocessor controlled
Patented Pulse Technology
5-step charging
Evaluation and test, bulk charge, absorption/saturation charge, infinite variable float charge, and continual pulse charge
2 independent charge banks
Each output is 2.5 amps
Optimal 3-Step Charging
2 Fully Isolated Outputs
Built-in Mode Indicators
Spark Free Hook Up
Reverse Polarity Protection
Short Circuit Protection
Line Regulation
5 year Warranty
Comments
X2 Charger by PulseTech. Tests, charges and desulfates lead acid batteries. Xtreme Charger is rated at 2.5 amps, but charges as fast as a 5 amp charger. *Flat Rate shipping is for the lower 48 states only.
Most Helpful Customer Reviews

A really smart charger

By

safarichef

on Nov 29, 2011,

Ownership:

When it goes, I'm giving it a eulogy,

Knowledge Level:

AC/DC is more than a band

(90 of 167 customers found this review helpful)

Pros: We use the PulseTech in the field in Africa to maintain and recover solar equipment. I've purchased 5 units thus far which are performing flawlessly from Serengeti to Okavango. Pros include: Easy to read display Multi-voltage input Effective battery test function Ability to charge a variety of batteries without being reset Durable and portable Works well of AC supplied by small generators

Cons: No major flaws. The machine can occasionally read "no Battery' but this is easily fixed by re-setting. A bit slow for larger batteries but worth the wait.

Two at once

By

Anonymous

on Aug 14, 2013,

Ownership:

Use regularly,

Knowledge Level:

AC/DC is more than a band

(82 of 158 customers found this review helpful)

Pros: Dual set of leads to charge two batteries at a time. Can use one set of leads if you only have one battery. Can leave hooked up,will not overcharge. Wall mountable

Cons: None

Pulse Tech Charger

By

Doug

on May 06, 2013,

Ownership:

Just Bought,

Knowledge Level:

AC/DC is more than a band

(81 of 155 customers found this review helpful)

Pros: Able to charge two at once led's show percent charge leads are detachable charger floats after full charge is reached

Cons: None so far

Review Summary

4.67 Average Rating

Rated

4.67

/

5

Stars from

3

customer reviews.

Write Your Own Review

Do you own the X2? Please, tell us what you think about it. It helps us provide you with better products. Please note that it may take up to 72 hours for your review to appear.

Write a review
Technical Specifications
Length
8
Width
6.5
Height
2.5
Weight
2.5
Shipping Weight (lb.)
4
DC Output Amps
2.5 A
AC Input Volts
110/220 V
AC Input Volts Freq.
50/60 Hz
AC Input Volts Range
90-250 V
Desulfation Pulse
22-28 KHz
Model:
100X200
Manufacturer:
Pulse Tech
Manufacturer Part #:
100X200
Made In:
Asia
Order Line: 1-800-362-5397
M–F 6am–5pm PST

Tech Help: 541-474-4421
Fax: 541-471-6014
276 Tech Way, Suite A
Grants Pass, OR 97526