view large photo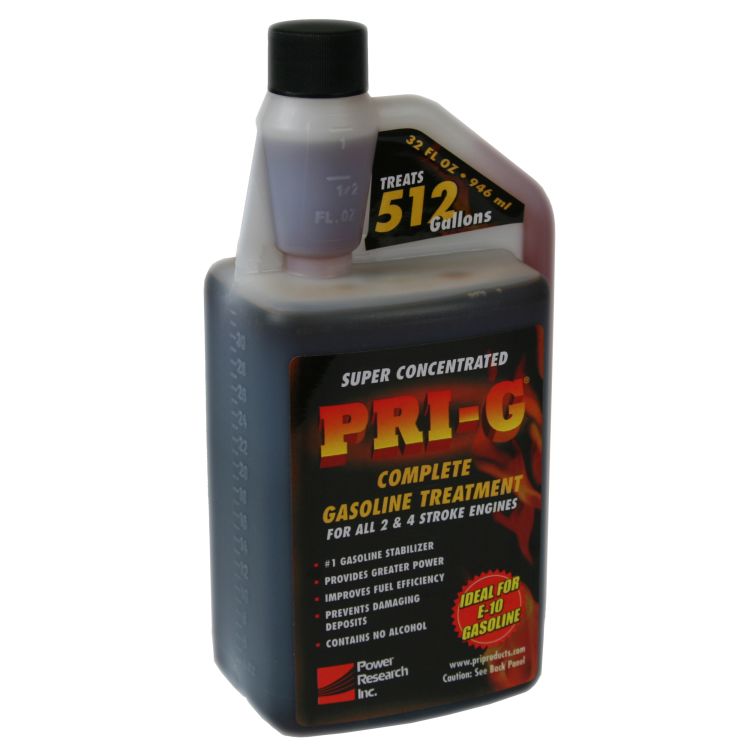 PRI-G Gas Treatment and Fuel Preservation 1 Quart PRIG32oz
PRIG32oz
Free Ground Shipping to Lower 48 States *
Quantity
---
OR Simple-Click Checkout
---
In Stock
Product must travel via Ground with an Estimated 2-6 Business Days.
---
Product InformationStore Part Number: PRIG32oz
Overview
PRI-G is super concentrated; one quart treats 512 gallons and is a complete fuel treatment that improves any type of gasoline, enabling it to perform to maximum potential. PRI-G's industrial strength, enhanced thermal stability chemistry reacts with fuel upon contact, and provides multiple benefits: Engines perform better and last longer Engine power increased and fuel economy realized Fuel stays fresh months, even years Hesitation, knocking, and pinging reduced
Improved Engine Performance: PRI-G works chemically within all gasoline to improve the combustion process. Improved combustion means improved engine performance. You will realize increased power from your engine. At the same time, you will enjoy greater fuel economy. PRI-G reduces the hesitation, knocking, and pinging that is common in gasoline engines. It is also extremely effective at cutting harmful emissions. Smog tests are no longer a challenge.
Reduced Maintenance Costs: PRI-G's proprietary, refinery-grade chemistry is unsurpassed at preventing carbon deposits and fuel system fouling. Your engine will remain cleaner and last longer, which means maintenance costs are significantly reduced. Keep your car, boat, or RV in great shape for years to come!
Extended Storage Life: Properly treated with PRI-G, your gasoline will stay fresh in storage for months and even years at a time. Super Concentrate PRI-G Complete Gasoline Fuel Treatment You'll be assured a fast start next season simply by treating your fuel with PRI-G prior to storage. PRI-G goes a step further, actually restoring old fuel to refinery-fresh conditions. If you are storing gasoline for any period of time, you can't afford to be without PRI-G.
Super Concentrated: PRI-G is super concentrated, treating fuel at a 1:2000 ratio. This means PRI-G is extremely cost effective to use. Get the most out of your gasoline for only pennies a gallon!
Safe To Use: PRI-G's enhanced thermal stability chemistry works within the fuel instead of altering it, which means the product is completely safe to use. Fuel specifications aren't changed, so engine warranties are not voided! PRI-G is safe and effective in both four stroke and two stroke engines. Use PRI-G today to get the most out of your gasoline and your engine.
This product has been used by industrial fuel customers for years. Although not widely known in the consumer market, it is the best fuel treatment available no matter the price. I have personally used both the PRI Diesel and Gasoline treatments since 1993 and have never encountered a fuel related problem in any of our equipment since that time. We feel that one of the greatest assets of PRI Fuel Treatments is the long term fuel storage and the ability to recover old stored fuels. If you have used Sta-Bil you will find that PRI is a far superior product and less costly per gallon to use.
Features
Improved Engine Performance
Reduced Maintenance Costs
Extends Fuel Storage Life
Super Concentrated - treating fuel at a 1:2,000 ratio.
Safe To Use - With PRI no fuel specifications are changed, therefore PRI meets all major engine manufacturer fuel specifications – warranties are not voided!
Comments
*Available within the Lower 48 United States and Canada only.
---
Tech Specs
Weight: 1.5 lb
Shipping Weight: 3 lb
Manufacturer: Power Research Inc/PRI
Manufacturer Part #: PRIG32oz
Made In: USA
---
Customers who bought this product also bought:
---
Reviews and Ratings
---
PRI-G IS GOOD STUFF
Pros: I have a 17 year old Ford F-150 with 291,000 miles on the odometer. Using PRI-G the truck gets over 20 mpg in good weather - summer. In winter somewhat less. That is in highway driving. Of course the truck is well maintained. Tires properly inflated, etc.
Cons: None that I can find.
Written by Hooks on Aug 31, 2011. Ownership: Use regularly. Knowledge Level: I know what an outlet is — (103 of 191 customers found this review helpful
Handy pour spout
Pros: Haven't used the product yet but already like having the product fluid measurement spout.
Cons: Too early to know
Written by Anonymous on Mar 02, 2014. Ownership: Just Bought. Knowledge Level: Electricity doesn't scare me.. usually — (84 of 169 customers found this review helpful
Pri-G
Pros: I can't tell you how much I LOVE this stuff! wouldn't be without it - I pour in a small drop, every fillup. I know I don't have to, but do anyway...because I love my lil' Toyota...with 247K miles....:) I began using Pri-G back in '08 or '09 and used it for about a year, then took the car in, and asked the mechanic to "check it out thoroughly, its got 192K, see what it needs"...he told me, "the valves look brand new!!!! I never see valves look this good, with this amount of miles!"- -wow, I knew it was the Pri-G...and I've been rockin' with it ever since. Car runs like new, in fact better; screamin' miles on the freeway. I use reg. unlead, nothing fancy, and try to get the car 'on the road' as often as possible. This stuff is magic. Keep up the good work, folks! 'preciate-cha!!!
Cons: N O N E!!!
Written by Les on Dec 02, 2012. Ownership: When it goes, I'm giving it a eulogy. Knowledge Level: I know what an outlet is — (92 of 173 customers found this review helpful
Excellent product
Pros: I recently rotated some gasoline that I treated with Pri-G 4 years and 5 months ago (yes, I write a date code on my stored fuel). My truck (fuel injected) and riding mower both ran perfectly on the 4+ year-old gasoline. I have also used Pri-D in my diesel tank for my tractor and have had similar results.
Cons: None.
Written by Raven on Nov 02, 2013. Ownership: Use regularly. Knowledge Level: AC/DC is more than a band — (93 of 173 customers found this review helpful
Good results
Pros: Of the various gas preservatives that I have tried, Pri-G has worked the best. This is my 3rd or 4th purchase over the years. I have a generator that had 4-year-old fuel (I had added Pri-G once a year, but didn't run it) which started and ran when needed recently. (NOT recommended practice, by the way.)
Cons: Seems expensive...but it goes a long way.
When I get gas in cans, I add Pri-G unless I plan to use that fuel right away.
When leaving a small engine for a while, I add Pri-G and run it a little while. I try to drain the carb (or run it dry), squirt a little oil in via the sparkplug hole(s) (or fogging oil for 2-smokes). Since I'm in a wet climate, I try to fill the gas tank before storage (to cut down on condensation, in theory). The first time I run it, I try to add some B-12 in-the-tank additive to the gas, to help replace some of the easily-evaporated components.
Written by Beatnik on Bongos on Jul 05, 2016. Ownership: Use regularly. Knowledge Level: Genius is my way of life — (3 of 7 customers found this review helpful
wonderful
Pros: I bought chargers and the fuel conditioner from this firm their service for a screwed up UPS delivery was super
Cons: NONE
I worked with Anthony to fix a UPS delivery issue that he had never experienced before.. He and the company handled extremely well.. I couldn't be more pleased. I have had other experiences with this vendor and they have all been exceptional
Written by dick on Jul 17, 2015. Ownership: Just Bought. Knowledge Level: Electricity doesn't scare me.. usually — (5 of 8 customers found this review helpful
Poor bottle design
Pros: Very concentrated.
Cons: Really hope they'll improve their bottle. Bought thru Amazon, the dispenser was brim full, bottle has only that one opening, no way to get product back into bottle. It only takes 5/16 oz. to treat 5 gal. gas, their smallest increment is 1/2 oz. which makes it pretty much useless. I emptied it into empty Stabil bottle which has 2 openings and 1/4 oz. increments, scratched a 5/16 mark above the 1/4 oz.
Written by Easy on Jul 22, 2016. Ownership: Just Bought. Knowledge Level: AC/DC is more than a band — (4 of 7 customers found this review helpful
Amazing product
Pros: Believe this or not,I have been using PRI-G for over 15 years. I have a 45 gallon drum of unleaded gas I purchased in the year 1999 at a cost of 30 cents a liter in Canada. I have added 4oz of this product every year since, and the gas still smells like new. The drum is plastic and it is sealed tight, the only time it is opened is to add the fuel treatment and to take a small amount out to test in my lawnmower. The gas burns as new in my lawn mower every year I have tested it. This turned out to be an unplanned experiment, as the fuel was originally purchased for the Y2K disaster which never really came about. However, I will keep adding PRI-G every year just to see how long this drum of fuel will stay active. Never know,may actually really need it one day!
Cons: None
Written by Anonymous on Dec 03, 2015. Ownership: Use regularly. Knowledge Level: Genius is my way of life — (3 of 6 customers found this review helpful
PRI-G gas treatment
Pros: It really does rejuvenate spoiled gas, improves running of engine. I do not use Sta-Bil anymore. I heard about this product on Radio Liberty on Genesis network about 2 years ago, and bought some.
Cons: I do not know if ethanol additives need to be used. It does stabilize the fuel.
Written by Anonymous on Aug 14, 2015. Ownership: Use regularly. Knowledge Level: I know what an outlet is — (3 of 6 customers found this review helpful
---
Manuals & Tutorials