How Do Batteries Die? Well, Let Me Tell You...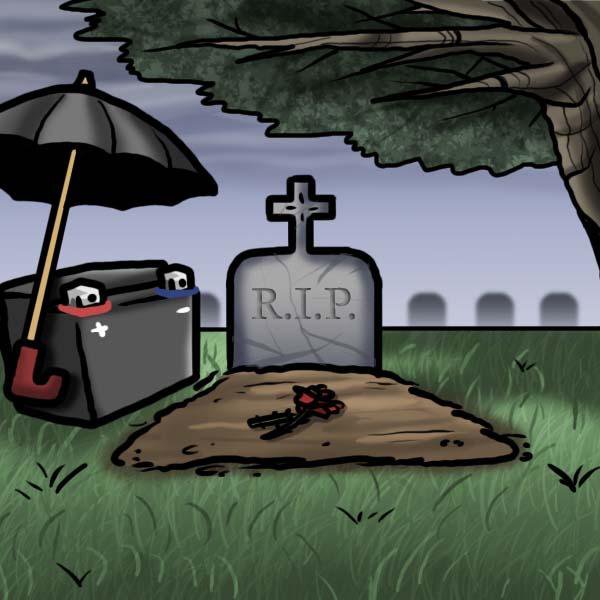 When the active material in the plates can no longer sustain a discharge current, a battery "dies". Normally a car (or starting) battery "ages" as the active positive plate material sheds (or flakes off) due to the normal expansion and contraction that occurs during the discharge and charge cycles. This causes a loss of plate capacity and a brown sediment, called sludge or "mud," that builds up in the bottom of the case and can short the plates of a cell out. This will kill the battery as soon as the short occurs. In hot climates, additional causes of failure are positive grid growth, positive grid metal corrosion, negative grid shrinkage, buckling of plates, or loss of water. Deep discharges, heat, vibration, fast charging, and overcharging all accelerate the "aging" process. Approximately 50% of premature car battery failures is caused by the loss of water for normal recharging charging due to the lack of maintenance, evaporation from high under hood heat, or overcharging. Positive grid growth and undercharging causing sulfation also cause premature failures.
Normally well maintained and properly charged deep cycle batteries naturally die due to positive grid corrosion causing an open connection. The shedding of active material is an additional cause. If deep cycle battery is left discharged for long period of time, dendrite shorts between the plates can occur when the battery is recharged. The low resistance bridge in the shorted cell will heat up and boil the electrolyte out of the cell causing a high volumes of hydrogen and oxygen. That is why proper venting and ventilation is so important when recharging batteries. Approximately 85% of premature deep cycle and starting batteries failures that are not recharged on a regular basis is due to an accumulation of sulfation. Sulfation is caused when a battery's State-of-Charge drops below 100% for long periods or under charging. Hard lead sulfate crystals fills the pours and coats the plates. Recharging a sulfated battery is like trying to wash your hands with gloves on.

In a hot climate, the harshest environment for a battery, a Johnson Controls survey of junk batteries revealed that the average life of a car battery was 37 months. In a separate North American study by BCI, the average life was 48 months. In a study by Interstate Batteries, the life expectancy in extreme heat was 30 months. If your car battery is more than three years old and you live in a hot climate, then your battery is probably living on borrowed time. Abnormally slow cranking, especially on a cold day, is another good indication that your battery is going bad. It should be externally recharged, surface charge removed, and load tested. Dead batteries almost always occur at the most inopportune times. You can easily spend the cost of a new battery or more for an emergency jump start, tow or taxi ride
Most of the "defective" batteries returned to manufacturers during free replacement warranty periods are good. This strongly suggests that some sellers of new batteries do not know how to or fail to take the time to properly recharge and test batteries.
Above article courtesy of jgdarden.
This article is rated 4.3 out of 5