view large photo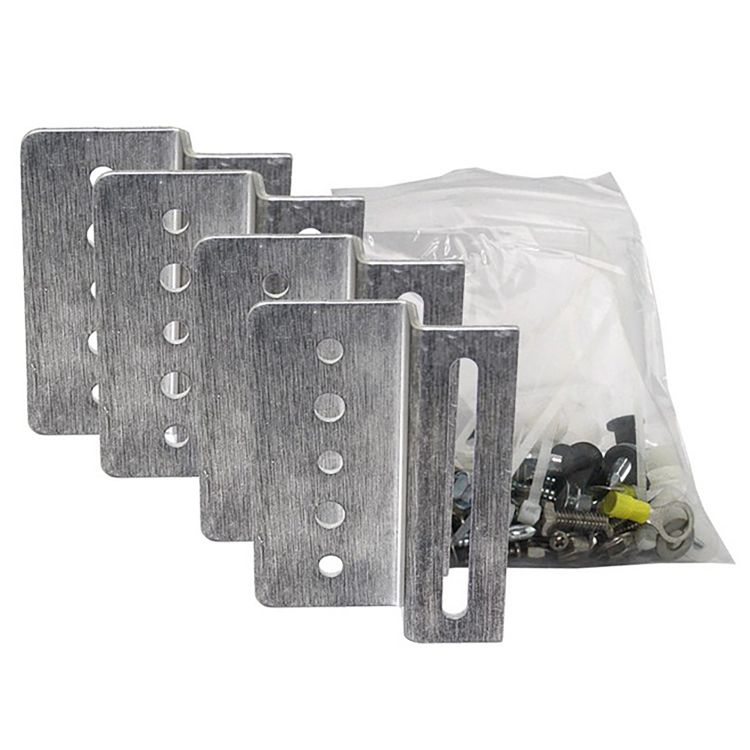 Samlex America RV Flat Mount Solar Panel Mounting Kit
SM5-KIT
Was: $56.10
Sale Price:

$

47.95
Free Priority Mail Shipping to USA *
Quantity
---
OR Simple-Click Checkout
---
In Stock
---
Product InformationStore Part Number: SM5-KIT
Overview
The SM5-KIT includes four sturdy 5-hole Aluminum mounting brackets with stainless steel hardware required to securely fasten a solar panel to the roof of your Recreational Vehicle (RV) or any other flat surface.
Installation is simple. Turn panel over to expose holes in frame. Using the hardware included, secure a bracket to each corner with nuts and bolts. Z shape bracket should face outward, not inward. Drill holes on a flat surface (such as the roof of a home or vehicle) and use extra hardware to secure the brackets to the surface.
Stainless Steel can be subject to a process called "thread galling" in which bolts can twist off and/or the bolt threads seize to the nut's thread. Apply anti-galling lubricant available at most hardware or auto-parts stores to all the stainless steel fasteners before installation. If anti-galling lubricant is not available, any standard lubricant will minimize the occurrence of "thread galling".
Using the Z Bracket Kit will ensure the solar panel is safe and securely in place. The solar kit also provides space underneath the panel for airflow to prevent overheating (which can cause the panel to become less efficient).
Features
4 5-hole aluminum mounting brackets
4 Stainless steel serrated flange bolts ¼"-20 x ¾"
4 Stainless steel nylon insert locknuts, ¼"
4 Stainless steel flat washers, ¼"-20
4 Well Nut-Nut thread: ¼"-20, length: 1", shank dia.: ½"
4 Stainless steel serrated flange bolt, ¼"-20 x 1¼"
Adjustable Solar Mounts
Packaged in Fours
Weatherproof
Durable Aluminum Design
Recommended for use on Solar Panels 30 Watts and up
2 Year Warranty
Comments
*Flat Rate Shipping Valid within the lower 48-States.


Recommended Solar Panels to use with this Bracket Kit
20 Watt Solar Panel
30 Watt Solar Panel
55 Watt Solar Panel
70 Watt Solar Panel
85 Watt Solar Panel
---
Tech Specs
Dimensions (LxWxH): 3 15⁄16 x 3 3⁄8 x 1 1⁄16 in
Weight: 0.9 lbs
Model: SM-5
Manufacturer: Samlex
Shipping Weight: 1.5 lbs
Warranty: 2 Years
Manufacturer Part #: SM5-KIT
Made In: China
---
Customers who bought this product also bought:
---
Reviews and Ratings
---
Manuals & Tutorials