1969 BMW 600cc R60/5 Motorcycle Batteries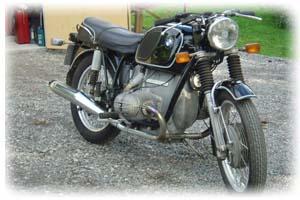 YT51913-22 Scorpion 12v 280 CCA Sealed AGM Motorcycle Battery
Price: $89.95
Size:
7 1/8 x 3 x 6 9/16"
C.C.A.:
280
Amp/Hr:
20
Replaces:
Standard flooded type 51913, 51814, YTX22L-BS
SST51913-FP Scorpion Stinger 12v 552 CCA LiFePo4 Extreme High Output Battery
Price: $279.00
Size:
7 1/8 x 3 1/16 x 6 11/16"
C.C.A.:
552 - As tested Midtronics model #417755
Amp/Hr:
*See Notes
LFX21L6-BS12 Shorai 12v 21 AH PBEq LiFePO4 Power Sports Battery [- +]
Price: $206.95
Size:
5.83 x 3.23 x 5.51"
C.C.A.:
315
Amp/Hr:
21 PbEq
Replaces:
HYTX14HL, YTX20HL, HYTX16BHL
FAQs
The R60/5 from BMW, first produced in 1969, is a 599cc air cooled, four stroke, boxer engine driven motorcycle. Being the first of the /5 series, the new generation of boxers incorporated many new features not found on earlier boxers. The 423 pound piece of machinery differs mostly in styling. The 1969 R60/5 came all black with white pinstripes. The first year, first generation of the /5 classic BMW boxer cranked out a maximum of 40hp at 6400 rpm and a top speed of 103 mph, which for the time was quite impressive. With the traditional BMW shaft drive, the 4 speed 60/5 offered a new twist on the sport/touring market that was just emerging in the United States at the time, and continues to be loved by BMW enthusiasts and classic motorcycle lovers alike today. Batterystuff.com is the leading provider of replacement 1969 BMW R60/5 Motorcycle batteries.
Order Line: 1-800-362-5397
M–F 6 am–5 pm PST

Tech Help: 541-474-4421
Fax: 541-471-6014
276 Tech Way, Suite A
Grants Pass, OR 97526