LFX24L3-BS12 Shorai 12v 24 AH PBEq LiFePO4 Power Sports Battery [- +]
Total price with shipping
Free Priority Mail Shipping to USA.
Price:

$

224.95
No Tax

BatteryStuff Part #:
LFX24L3-BS12
Replaces:
HYTX16BHL, YTX20HL, HYTX20DHL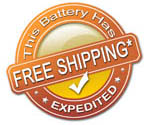 In order to ship Priority IATA imposed new Shipping Regulations regarding Lithium Batteries. Lithium Batteries being shipped Priority are only charged to 30% of capacity. When you receive this battery it may need to be charged. This is the battery charger we recommend for this battery: Shorai 6v/12v 2 Amp LFX Series Lithium Battery Charger Sho-BMS01
LFX24L3-BS12 Shorai 12v 24 AH PBEq LiFePO4 Power Sports Battery [- +]
Product Description
The Lithium Iron Phosphate battery is the ultimate in weight versus power technology. This battery weighs in at only 3.97 pounds and offers an incredible 360 C.C.A. This is a drop in replacement for your Lead-acid battery, and will require no change to your stock charging system.
Shorai LFX batteries contain Shorai-proprietary eXtreme-Rate Lithium Iron prismatic cells (chemistry LiFePO4). They contain no poisonous lead, no acid, and do not create gasses during charge, as traditional Lead-Acid batteries do. Compared to lead-acid, Lithium Iron Phosphate batteries are also extremely light, have much lower self-discharge, do not sulfate, and are environmentally friendly.
The LFX24L3-BS12 battery is the "light duty" version , perfect for any application that requires that extra weight savings. It is the lightest version of this lithium Iron Phosphate battery in this size and has more a weight savings of .2lbs on the LFX27L3-BS12, and a savings of just under 1 lb. (.99lb) on the LFX36L3-BS12 . We recommend using this battery for all applications listed, especially if you are needing to maximize weight savings for racing applications.
Lead acid batteries have long been a target with riders who want to take weight off of their motorcycle. With our Lithium Iron Phosphate batteries, it is now possible to do away with the heavier lead acid battery, while maintaining reliable starting power. These are true drop in replacement batteries that will require no charging system modifications, and only weigh a fraction of the OEM battery.
*BatteryStuff understands the importance of getting a replacement battery right away and usually ships all batteries the same day as ordered if received before 1:30pm (Pacific), however USPS does not guarantee delivery times with priority mail.
Features
No more dead batteries. Holds charge for one year without maintenance
Ultra light. One fifth the weight of lead-acid batteries on average
Twice to four times the service life of lead-acid batteries
Drop-in replacement for your OEM battery
Military spec Carbon Fiber Composite Case
Faster cranking for better starts
Super-fast recharge rate
No explosive gasses during charge, no lead, no acid
Environmentally friendly
Japanese engineering and components
Comments
We recommend using these batteries in temperatures above 0 degrees Celsius. This battery may require spacers to make it work in your application. Included with this battery are foam spacers that will aid in fitting this battery. ** PbEq equals Lead-Acid Equivalent. This means that a 24 AH PbEq Lithium Iron Phosphate battery will perform the same as a 24 amp hour Lead-acid battery.
Recommended Charger

Shorai Charger Sho-BMS01
The Sho-BMS01 is a Charge/Store dedicated battery managment system that is designed specifically for Shorai batteries.
Vehicles that LFX24L3-BS12 works in
| | |
| --- | --- |
| Bombardier (BRP), Ski Doo 1200cc Grand Touring, GSX, MX Z, GTX | (2010-2011) |
| Bombardier (BRP), Ski Doo 300cc Skandic | (2010-2011) |
| Bombardier (BRP), Ski Doo 550cc Expedition, Freestyle, Skandic, GSX, GTX, MX Z (All 550cc) | (2010-2011) |
| Bombardier (BRP), Ski Doo 600cc Expedition, Freestyle, Skandic, GSX, GTX, Summit, (All 600cc) | (2010-2011) |
| Bombardier (BRP), Ski Doo 800cc Freestyle, Renegade, Summit, GSX, MX Z, | (2010-2011) |
| Harley Davidson 1340cc FL, FLH Series (EVO engine) | 1980 |
| Honda 1500cc GL1500 Gold Wing | 1999 |
| Honda 1800cc VTX1800C, F, N, R Retro, S | (2002-2004) |
| Honda 750cc CB750A Hondamatic | (1977-1978) |
Review Summary

0 Average Rating

Rated

0

/

5

Stars from

0

customer reviews.

Write Your Own Review

Do you own the LFX24L3-BS12? Please, tell us what you think about it. It helps us provide you with better products. Please note that it may take up to 72 hours for your review to appear.

Write a review
Technical Specifications
Part Number
LFX24L3-BS12
Length
6.55
Width
3.39
Height
6.10
Weight
3.97
Shipping Weight (lb.)
4.0
DC Output Voltage
12V
Warranty
3 Year Manufacturer
Recommended Use
Heavy Duty Powersports
Amp/Hr
24 PbEq
C.C.A.
360
Model:
LFX24L3-BS12
Manufacturer:
Shorai
Manufacturer Part #:
LFX24L3-BS12
Made In:
China

Instruction Manual

Download Installation Guide

Download User Manual
Order Line: 1-800-362-5397
M–F 6am–5pm PST

Tech Help: 541-474-4421
Fax: 541-471-6014
276 Tech Way, Suite A
Grants Pass, OR 97526