Shorai LFX Lithium Iron Phosphate Batteries Abuse Test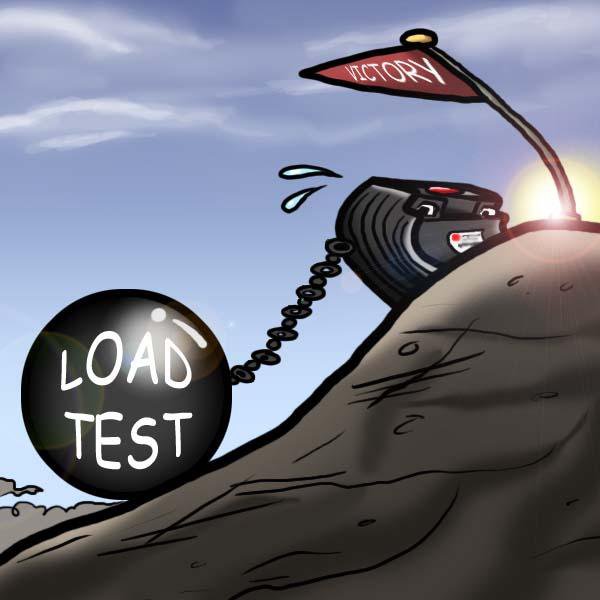 Lithium Iron Phosphate. At first thought, it sounds like a vitamin supplement that I should be taking to calm my nerves and keep the doctor away. While it won't calm the nerves or help the joints, Lithium Iron Phosphate is actually a battery chemistry that allows for superior energy storage in a much lighter than lead package.
Also known as LiFePO4, and in this case LFX, Lithium Iron Phosphate batteries have finally made it to the world of powersports. Sure, for a few years there have been some industrious independent entrepreneurs packaging round power tool batteries into a format that works in Powersports applications. But now, with the introduction of Shorai LFX powersports batteries, there is now a purpose built battery that has been designed from the ground up to do exactly what a motorcycle battery should do. Simply put that means it will fit correctly in its application, and start your engine time and time again.
Without going into too much technical detail, the square modular cells built into each Shorai LFX batteries are the perfect solution for starting your bike reliably while at the same time shaving some serious weight. When I say serious weight, I mean serious weight. When we first received a pair of Shorai LFX batteries for testing I was truly blown away by how light these batteries really are.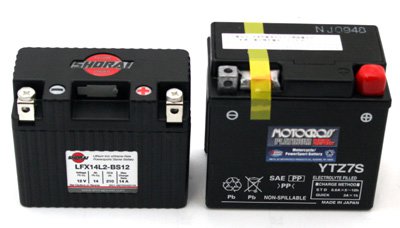 For testing purposes we received a pair of batteries that are meant to replace the common YTZ7S that is found in most all dirt bikes, including virtually all KTM's, Yamaha's and our mighty shop Husaberg FE450. We requested one battery for 'track' purposes, and one for heavier use, such as trail riding with plenty of re-starts throughout the day. What we received was the LFX07L2-BS12, and the LFX14L2-BS12. The manufacturer rates these batteries at 102 and 210 CCA respectively. Weighing in at 1.01 lbs for the LFX07, and 1.61 lbs for the LFX14, these batteries are remarkably lighter than the battery they replace. In fact, when weighed on our UPS certified scale the stock YTZ7S showed a portly 4.7 lbs. In case your math skill matches mine, that is just over a 3 lb savings for the LFX14 and about a 3.7 lb saving for the track version.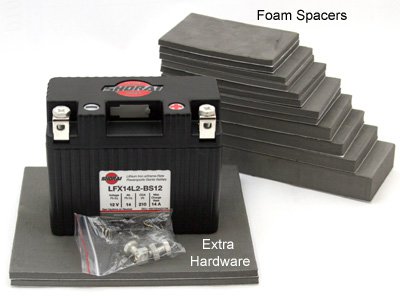 As far as fit and finish, Shorai has really gone above and beyond. Having personally spent quite a number of years in and around batteries, these appear to be a very high quality unit, manufactured to a standard not often achieved. In the world of lead acid batteries, there are a few that do shine. Yuasa, Odyssey, Scorpion among a few select others have always been above the curve, and it appears that this new entry has the old guard firmly in its crosshairs.
So, good looking, good feeling and nice and trim... But enough about me. How do they perform? Well, we've only had time to do a short term test, but so far I am once again impressed. We installed the track and race version(LFX07L2-BS12) into an 2009 Husaberg FE450 for a test. Being a fuel injected, no kickstart bike it is the perfect candidate to test the battery on. Using the included foam spacers, this was a drop in fit that was quickly done with no drama.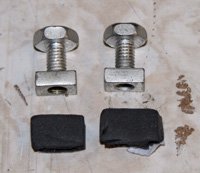 OK, I admit, I dropped one of the battery terminal nuts into a black hole that apparently exists in the space-time continuum residing below the Husaberg. I am sure one day it will turn up with all my missing socks. No worries though, apparently Shorai knew who would be doing the install, and have seen fit to include an extra nut and bolt set with each battery. Nice touch. After the install it was time to abuse the heck out of the battery to see what it will do.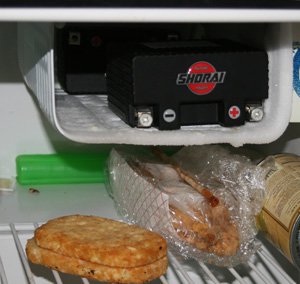 30 starts later, including three 10 second attempts with the kill button pressed, this battery is still starting the bike as it did the very first time. Keep in mind, this is the 'race' version of the battery. We will actually be installing the trail friendly version for our long term test, and the lighter duty battery will be heading over to Steahly Offroad for long term residence in their new KTM 350 SX shop bike. So our initial test looks real good, but one thing our tech guys have been concerned about is cold weather starting.
Lithium Iron Phosphate traditionally does not work to it's full potential in cold climates, at least until it warms up under a working load. We wanted to see how these new, specifically designed square cells stacked up. After all, a little bit of cold weather never keeps you off your bike, now does it? It has been pretty wet in these parts lately, but not much below about 40 degrees Fahrenheit. Thanks to shuffling some goodies around in our break room freezer (I was afraid to touch the used tater tots, so don't ask) we were able to put the two test batteries in the little freezer overnight to cool them down.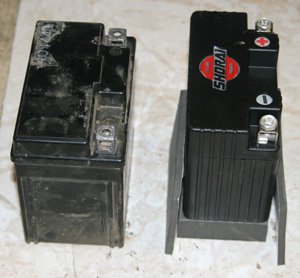 About 24 hours later, we removed them for a final bit of abuse before installing long term. Once again, for testing purposes, we installed the iced LFX7 in the Husaberg. It started immediately with no hint of a burden. We then shut the bike off and did 3, 10 second hits with a thumb on the kill button. When the kill button was released, the bike fired immediately, again no hint of a strain.
One thing we failed to mention regarding the bike setup is the installed Revloc Dyna Ring auto clutch. The Dyna ring clutch tends to drag a fair bit when cold, and we did all these tests in gear which substantially increased the drag on the starter and the battery over what it would have been if we tested the battery while the bike was in neutral.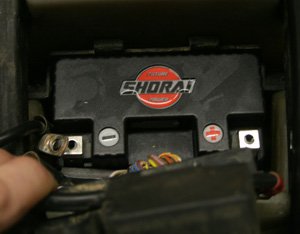 The long and the short of it is we can find no downside to using one of these batteries for both the weight savings and how well they turn the bike over. Given how long this type of cell is expected to last, the economy of it also makes sense. They include a 2 year manufacturer warranty, so if any issues do arise, Shorai has got you covered. Over the next few months of winter, our staff expect to fully and completely abuse this battery to see how it holds up. We will let you know how things turn out!
Was this information helpful? Sign up to Get Updates and Offers.
Created on October 21, 2011, Last Modified on November 20, 2018
This article is rated 5.0 out of 5