view large photo
Eagle 48v 15 Amp Industrial Lift On-Board Charger i4815OBRMLIFTIEC
i4815OBRMLIFTIEC
Was: $532.99
Sale Price:

$

435.95
- No Tax
This item qualities for
$7.50 Flat Rate Shipping *
Quantity
---
OR Simple-Click Checkout
---
In Stock
Made in the USA!
Designed for Genie 2011 and later Scissor Lifts.
---
Product InformationStore Part Number: i4815OBRMLIFTIEC
Overview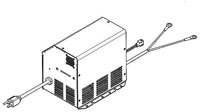 The Eagle Performance 48 volt 15 amp charger is meant for tough and rough applications. For any heavy duty 48 volt system, the Eagle is set up to charge efficiently and reliably every time. The i4815OBRMLIFTIEC has an integrated microprocessor to make sure that you never have to worry about overcharging your battery system.
The Dual Pro Eagle Series chargers 5 LEDs indicating battery charge level (located on the right-hand side of the unit, see specification sheet). When batteries are fully charged the Eagle Charger turns off completely. Should the batteries discharge to a programmed voltage level the Eagle Charger automatically reactivates the charge circuit and bring the batteries back to 100% charge. Eagle Chargers use a proprietary method of adjusting charge algorithm to compensate for temperature thus improving battery charge quality and safety.
Ideal for use on Genie 2011 and later Scissor Lifts. On-board model makes it simple to mount on various applications.
MADE IN THE UNITED STATES
Features
For use with Lead Acid (Wet/AGM) batteries
Easily reconfigured for Gelled Electrolyte batteries
Battery type LED indicator
Designed for tough duty applications
Dependable, rugged construction
Exclusive temperature compensation
Water resistant
Fully automatic with float maintenance
Return to charge maintenance mode
Exclusive on board diagnostics
High visibility, easy to read charge indicators
Fan cooled
Optional Universal A/C input
Optimal 3 Step Charging
Built-in Mode Indicators
Spark Free Hook Up
Demand Sensing
Reverse Polarity Protection
Over Voltage Protected
Short Circuit Protection
Overload Protection
Withstand Voltage
Line Regulation
Load Regulation
Fan Control
Thermal Protection
18 Month Warranty
Comments
* Flat Rate shipping is for the lower 48 states only.



Optional Accessories

DVR001
Utilizing the Pro Charging Systems new DeltaView® Reader, users can wirelessly query PCS battery chargers to easily collect data in just a matter of seconds and then analyze the data using the companion DeltaView® software provided as part of the product.

BFG48V
The BFG48V battery fuel gauge solves one of the most common complaints about battery status indicators currently on the market today. It features a 12 LED array that indicates the depletion level of the battery pack.
---
Tech Specs
Dimensions (LxWxH): 8.5 x 7.1 x 7.75 in
Weight: 20 lb
Shipping Weight: 22 lb
DC Output Amps: 15 A
Absorption Voltage: 60 V
AC Input Volts: 115 VAC
Model: i4815OBRMLIFTIEC
Manufacturer: Pro Charging Systems
AC Input Volts Freq.: 60 kHz
Float Voltage: None-Shuts Off
Equalization Voltage: 2.66 VPC
Charge Reset: Battery Voltage Threshold: 50.4 V
Working Temperature: -30° to 50° C
Storage Temperature: -40° to 85° C
Manufacturer Part #: i4815OBRMLIFTIEC
Made In: USA
---
Customers who bought this product also bought:
---
Reviews and Ratings
---
Manuals & Tutorials