Overview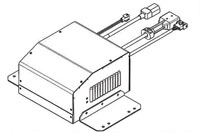 The Eagle Performance 48-volt 18-amp industrial battery charger by Pro Charging Systems/Dual Pro is meant for tough and rough applications. For any heavy-duty 48-volt system, the Eagle boom lift charger is set up to charge efficiently and reliably every time. The i4818OBRMJLGS400A has an integrated microprocessor to make sure that you never have to worry about overcharging your battery system.

When batteries are fully charged, the Eagle Charger turns off completely. Should the batteries discharge to a programmed voltage level, the Eagle Charger automatically reactivates the charge circuit and bring the batteries back to 100% charge. Eagle Chargers use a proprietary method of adjusting charge algorithm to compensate for temperature, thus improving battery charge quality and safety.

Ideal for use on JLG E Series industrial applications. On-board model makes it simple to mount on various application.

MADE IN THE UNITED STATES

* Flat Rate shipping is for the lower 48 states only.