Universal 12v Digital Volt Meter with Car Adapter UPGvoltminder
Price:

$

30.00
No Tax

Not In Stock
BatteryStuff Part #:
UPGvoltminder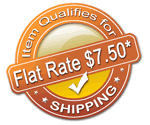 This Qualifies for FLAT RATE Shipping of $7.50 per order*
Keeps you informed of your battery status at all times!
Discontinued
Universal 12v Digital Volt Meter with Car Adapter UPGvoltminder
Product Description
Low Voltage Warning Device for 12 volt battery systems. Prevent low or dead batteries by installing Volt Minder which has both LCD voltage read out and audible alarm. Customer adjustable low voltage setting, with a range of 10.5 to 13.8 volts, and audible on and off switch. Automatically monitors charging system and detects battery loads.
Ideal battery protection for RV, Marine, Big Rigs or anyplace battery voltage may be critical to operation of starting or auxiliary power systems.
We tested many voltage monitors, and this unit was the most accurate.
Features
Prevent battery failure and jump starts
Loud audible alarm with on and off switch
Adjustable low voltage alarm threshold
Illuminated LCD voltage read out
Reads charging system voltage and detects battery loads
Volt Minder contains 6 foot power cord and mounting kit
90 Day Warranty
Comments
*Flat Rate shipping is for the lower 48 states only.
Review Summary

4.75 Average Rating

Rated

4.75

/

5

Stars from

4

customer reviews.

Write Your Own Review

Do you own the UPGvoltminder? Please, tell us what you think about it. It helps us provide you with better products. Please note that it may take up to 72 hours for your review to appear.

Write a review