Sponsoring The Funky Chicken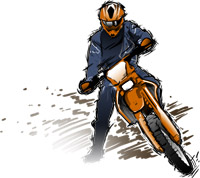 This year, we are proud to be sponsoring a race that's held every year at the Big K Ranch in Elkton, Oregon. This is round #5 of the AMA Western Hare Scrambles, hosted by Emerald Trail Riders Association. The event will take place on June 16-17, 2012. Saturday will consist of races from the AMA National Youth Hare Scrambles, plus the B and C adult classes. The rest of the AMA National Hare Scrambles and the Pro and A classes will tear it up on Sunday. The best racers from all over the West Coast will be there, with over 300 racers expected. BatteryStuff.com will have 5 sponsored riders racing this event, including one that works in our very own warehouse facility.
This is Father's Day weekend, so it's a great idea to plan a family trip. The gate fee is $10 per person, with kids under 6 free. It's more than worth it to see some amazing off-road racing and fun for everyone. The ETRA has a reputation for creating major family fun events. There will be food, music, PA announcements, and a "main street" with vendor booths. The area is great for camping, so bring your tent and stay the night on Saturday.
BatteryStuff.com is a proud sponsor of this year's HOLESHOT AWARD!

The first contestant to make the first turn of the wave is the winner of the Holeshot.
Don't worry!!! It will be a photo finish...
Saturday Kid's Events (50cc, 65cc, 85cc, Super Mini, Girls)
All kids and junior riders under 15 years old and racing on Saturday will receive a prize package! The Holeshot winner of each start wave will win a bunch of cool stuff, including a knarly framed photo of you roosting the competition. For those entering multiple races, we will award a picture for the Holeshot, but no additional goodies.
Saturday Adult's Events( C class, beginners, women, JrX and old dudes)
All Saturday adult waves will get a chance for fame as well. Take the Holeshot on your start wave and win a prize package worth $100.00, a framed picture of you out front and bragging rights at a National event. Prize package will include a wicked smart Genius charger from Noco and other cool swag.
Sunday Adult's Events (All classes, all waves)
Each start wave on Sunday will get a chance to drag race to the first corner as well. The fastest to the turn will take home a prize package worth more than $125.00 in value. Not only will you receive a framed picture of yourself making the competition look slow, you will also get some of the same cool stuff winners on Saturday receive PLUS a gift certificate of $50 for any products available through www.Batterystuff.com.
Sorry, only one award package per participant. Awards have no cash value and items cannot be substituted or exchanged. Awards will be handed out after the finish of the event. We will NOT hunt you down, you have to find us. To claim your prize, come to the BatteryStuff display booth. You gotta come personally, don't send someone else. Prizes awarded to participants only...
Read the RACE REPORT from one of our sponsored riders!
Was this information helpful? Sign up to Get Updates and Offers.
Created on June 5, 2012, Last Modified on November 23, 2020