Race Report | 2012 Funky Chicken

OK, let me just start this race report by saying I today, right now, feel like a crash test dummy at a proctology convention. I mean, don't get me wrong, I had a great event. But man, that sort of chop leads to some seriously sore derriere. Today, I have that 'Ima gonna be sore tomorrow feelin', and a real 'shot out of a cannon' look to my eyes.
But, you came here for a race report, so here she goes.
Sunday morning started out with a nice thick coastal marine layer of clouds that actually looked like they could produce some rain. Fortunately, that didn't happen, and in fact the clouds burned off just about the time the race got going. The air temperature was fairly pleasant for the non riders, but you could just tell it was going to be a burner of a ride. I understand there was some pretty respectable carnage at the first corner on some of the start waves, and I cannot say for sure if this was normal activity, or a result of BatteryStuff.com offering a hole shot award to each wave. To those of you that crashed trying to get the holeshot, you are welcome…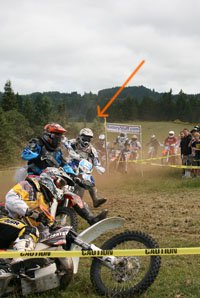 My start, the 40X class left in the 6th wave, and with 20+ riders on the line it was certain that a good start was going to be important. While I was not first off the line, my fresh tires and mad cornering skills* led me to get (debatably) the holeshot. Well, I was the first one off into the grass track anyways. I remember thinking how glad I was to run that grassy section with no dust and no traffic, and even drug my feet and roosted as much as I could in celebration. The grass track was a bit different this year, with a shorter section than normal running around the hilltop before going off down towards the river. Speaking of that, I'd like to hear from all those that crashed on that little road crossing when leaving the grass…I did not go down because my acute people watching skills clued me in. Spectators standing around an unlikely spot means trouble, and that little dropoff/g out had to be nasty in the dust if you did not know it was coming. Even the Famous Mr. Morton tells of a cartwheel style dismount he performed there. Anyways, the grass track was shorter than normal. We went down the hill, around in the woods a bit, and then back up 100mph hill and into the grass track for a pass down the back side of pit row.
*mad cornering skills in this instance are equivalent to not crashing into the rest of the pile that was beginning to form.
The first time up 100mph hill the dust was so bad they decided to route everyone around the jump. When I went up, I could barely make out the turn off, let alone see any flagger. In fact, my first three passes up I had to abort the jump because my vision limit was about the end of my front fender. Lap 4 and 5 was all clear and smooth sailing. Jumping it was a nice treat for me. I mean, I am no jumper, but that 3.43 seconds of air time for those two times I was able to jump provided the only rest time for the whole race! The remainder of the race was chop, root, chop, rut, repeat. In fact I was so tired after 2 laps that I couldn't even muster the strength to blow spit bubbles.
I was feeling good on the first lap and it did not take long to get into the previous wave of riders. I hate to beat a dead horse here, but I managed to catch the back end of the 30x class just as we finally left the grass track on the first lap, and from then on it was catch, yell, pass, catch, yell pass, etc. I have helmet cam footage, but I am pretty well certain the 30x class all stopped for a group hug and a prayer, cause they were all grouped up and trail riding for most of that first lap. Pretty sure I heard some of them humming ♪coom-bay-yah♫ when I passed them. Fortunately, the dust in the woods was not bad, so passing was a matter of sneaking up on them, shouting BOO! and going around them.
After that first lap though, I was beat. I mean dog tired, worn out, and trying to feel my fingers. I ended up staying in front of my class for two laps before my brain started shutting on and off random muscles in a desperate attempt to get their attention. 3 more laps of survival riding and I managed a 5th place. I beat all the Oregon regulars, and even stayed on the lead lap, but I couldn't help but feel that I was riding well below my skill level for more that half the race. I guess it is back to the gym. Either that or more donuts before the race.
Speaking of before the race, I read the directions on crashing and some of the listed side effects were whining, bleeding, sudden uncontrollable anger, rash and inflammation followed by depression, and pain lasting more than 4 hours. I decided to attempt a race without crashing…and short of a silly little 2 mph spin out right before the check I managed to do it. That is some kind of record for me, and I'd like try it again to see if it is really 'me'.
At this point, it is customary to thank the event promoter, the sponsors, My pit crew, kids, all that. I couldn't do it without you. Well, maybe I could. I guess we will never know.
Kidding! The event was awesome, the course was brutal, the pit crew (Rhonda) was fantastic. It was a great weekend. If you missed it, make sure you make it next year. I know I will be there! You will see me working road crossing #2.
PS. We have LOTS of pictures, just go to our FACEBOOK Album!
Was this information helpful? Sign up to Get Updates and Offers.
Written on by
Anthony Rico
with
BatteryStuff.com
Modified on
Race Report | 2012 Funky Chicken