Do I Need a Special Battery for My ATV with a Winch?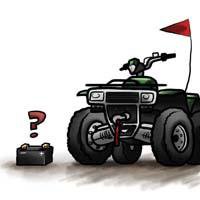 The short answer is that ATV batteries and Powersports batteries are just not designed to handle the amp draw of a winch. They are not made for deep cycling, only for starting. That being said, in the real world we have winches. Having a higher CCA is a bit helpful, but what you really want is higher storage amps, and a battery capable of deep cycle.

Odyssey makes a battery that is suitable, but they do not have direct size drop-ins, so your best bet is to figure out what your maximum dimensions can be, and then size a battery from our powersports battery list. The Odysseys are the red ones. If you go with a standard battery, find the largest one that will fit, highest amps, highest CCA.
Was this information helpful? Sign up to Get Updates and Offers.
Created on October 21, 2011, Last Modified on February 10, 2020
This article is rated 4.0 out of 5