YT12A-BS Motocross 12v 175 CCA AGM Scooter & Motorcycle Battery
Total price with shipping
Free Priority Mail Shipping to USA.
Price:

$

77.00
No Tax

BatteryStuff Part #:
YT12A-BS
Replaces:
Yuasa YT12A-BS, PT12A-BS, GT12A-BS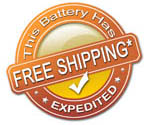 This battery normally ships via USPS Priority mail, with expected* delivery time of 2-4 days. MAKE SURE YOU USE A POST OFFICE DELIVERABLE ADDRESS! Customer will be responsible for shipping charges on returns for undeliverable addresses.
YT12A-BS Motocross 12v 175 CCA AGM Scooter & Motorcycle Battery
Product Description
Motocross is Yuasa's speciality reseller's house brand. Made in the same factory, to the same specs as the OEM battery it replaces.
Yuasa Battery, Inc. has been the leading manufacturer of motorcycle batteries in the world, building batteries in the U.S.A., Japan and Taiwan to uncompromisingly high standards since 2000. They are the largest American manufacturer and the largest distributor of batteries for motorcycles, snowmobiles, scooters, all-terrain vehicles and personal watercraft
In addition to their vast replacement business with the Motocross brand, Yuasa is the preferred original equipment supplier to many of these same markets. By producing batteries that generate more power, last longer, and require minimum maintenance, Yuasa Battery Inc, via it's Motocross line has achieved a leadership position in small engine aftermarket starting batteries. Continuous research and development, along with unvarying standards of manufacturing quality, will help maintain our position as market leader around the world
*BatteryStuff understands the importance of getting a replacement battery right away and usually ships all batteries the same day as ordered if received before 1:30pm (pacific), however USPS does not guarantee delivery times with priority mail.
Features
Finally a High Output battery for your personal watercraft or ATV!
Maintenance Free Sealed AGM battery will not dry out or spill
FREE PRIORITY MAIL DELIVERY 48 STATES
1 Year Warranty
Comments
This is the Gold Standard for batteries, built in the USA to withstand harsh conditions that other manufacturers can't match. As the saying goes, you get what you pay for.
Vehicles that YT12A-BS works in
| | |
| --- | --- |
| MV Agusta 750cc F4, Brutale | (2000-2004) |
| Suzuki 1000cc GSX-R1000 | (2005-2013) |
| Suzuki 1000cc TL1000R | (1998-2003) |
| Suzuki 1200cc GSF1250S Bandit | (2007-2008) |
| Suzuki 1250cc GSF1250S, A Bandit | (2007-2013) |
| Suzuki 1300cc GSX1300R , Z HAYABUSA | (1999-2007) |
| Suzuki 400cc AN400 BURGMAN | (2003-2013) |
| Suzuki 650cc SFV650 Gladius | (2009-2011) |
| Suzuki 650cc SV650, S, A, SA | (1999-2007) |
| Suzuki 650cc SV650A, SA | (2008-2010) |
| Suzuki 750cc GSX-R750 | (2000-2013) |
Most Helpful Customer Reviews

Great Service, great product.

By

Greg

on Oct 06, 2012,

Ownership:

When it goes, I'm giving it a eulogy,

Knowledge Level:

Electricity doesn't scare me.. usually

(80 of 154 customers found this review helpful)

Pros: Very fast delivery. My order showed well packaged and in great condition. This is my second order and both have been a really good experience. I contacted customer service once on an unrelated topic, via email, and was very happy with the response time and quality of the response .

Cons: None.

Other Thoughts: I really like the higher quality batteries. I live where I can't ride 6 months out of the year and I hate having to keep the battery charged all the time. Heck, at these prices I actually just let the battery die last time and got a new one! :-)

Quick shipping, Good support

By

speedmango

on Oct 13, 2014,

Ownership:

Use regularly,

Knowledge Level:

AC/DC is more than a band

(79 of 153 customers found this review helpful)

Pros: I need a new YT12-BS for my Suzuki 1250 every 3 or 4 years. I use batterystuff.com because they provide a quality product at a reasonable price and ship quickly.

Cons: None.

Other Thoughts: This time it had been 3.5 years and starting was getting a little sluggish so I bought a new battery. Things seemed ok for a couple of months then starting became very difficult indeed. After some tests, batterystuff sent me a replacement. However, I learned that it was really my starter failing, a known problem for that year bike. So I replaced the starter, put in the replacement, and I've been good to go. Since it was my problem, I paid for the replacement. I think that I was treated very fairly.

Battery purchase

By

Moon

on Jul 11, 2014,

Ownership:

Just Bought,

Knowledge Level:

AC/DC is more than a band

(79 of 153 customers found this review helpful)

Pros: Got here quickly. Tech service rep Anthony is awesome.

Cons: Failed after a couple weeks.

Other Thoughts: Anthony sent clear instructions to identify failure reasons and do a couple tests...bottom line they are replacing the battery free of charge. Sometimes stuff happens and this is the response I like from those I do business with .

Review Summary

5.00 Average Rating

Rated

5.00

/

5

Stars from

3

customer reviews.

Write Your Own Review

Do you own the YT12A-BS? Please, tell us what you think about it. It helps us provide you with better products. Please note that it may take up to 72 hours for your review to appear.

Write a review
Technical Specifications
Length
6
Width
3 7/16
Height
4 3/16
Weight
6.9
Shipping Weight (lb.)
8
Warranty
1 year
Amp/Hr
10
C.C.A.
175
OEM Ref
YT12A-BS
Charged
Ready to Install
Model:
YT12A-BS
Manufacturer:
Motocross (by Yuasa)
Manufacturer Part #:
YT12A-BS
Made In:
Taiwan

Order Line: 1-800-362-5397
M–F 6am–5pm PST

Tech Help: 541-474-4421
Fax: 541-471-6014
276 Tech Way, Suite A
Grants Pass, OR 97526