YT5AL Scorpion 12v 55 CCA AGM Scooter & Motorcycle Battery
Total price with shipping
Free Priority Mail Shipping to USA.
Was: $41.00
Sale Price:

$

35.95

No Tax

BatteryStuff Part #:
sYT5AL
Replaces:
Yuasa 12N5-3B, sYT5L-B, YB5L-B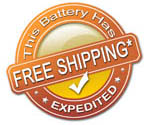 YT5AL Scorpion 12v 55 CCA AGM Scooter & Motorcycle Battery
Product Description
YT5AL High performance battery by Scorpion. These are no ordinary replacement batteries, but a true high performance AGM battery that is designed to meet and even surpass the standards set by your vehicle's OEM manufacturer.
Scorpion is dedicated to manufacturing only the best replacement batteries, to uncompromising standards. Manufactured specifically for BatteryStuff by one the largest makers of motorcycle and ATV batteries in the world. While these batteries are 'new' to the US market, they have become one of the largest powersports battery manufacturers in the rest of the world simply because they build only quality products.
By continually updating and modernizing their manufacturing process, the makers of Scorpion batteries have achieved a position in the Powersports industry that is unrivaled around the world. Scorpion is the ONLY battery in the U.S. to currently offer a real MANUFACTURER backed warranty on their products. What does this mean to you? This means that Scorpion is confident enough in the quality of their batteries that they are not afraid to stand behind them. The rest simply ask their distributors to 'ante up' and cover the failure. This confidence alone is why BatteryStuff is excited to offer this new battery.
Be assured that with the YT5AL 12 Volt High Performance AGM Scorpion battery you are buying quality, at an affordable price.
*BatteryStuff understands the importance of getting a replacement battery right away and usually ships all batteries the same day as ordered if received before 1:30pm (pacific), however USPS does not guarantee delivery times with priority mail.
Features
Scorpion AGM Battery ships charged and ready to install
Maintenance Free Sealed design
No liquid acid, so zero corrosion
Absorbed Glass Mat technology
Resists extreme vibration and heat
Very low self-discharge rate
Extra heavy duty terminal design
Price includes FREE PRIORITY MAIL DELIVERY 48 STATES
This is the NEW High Performance AGM version of this battery.
Finally a High Output battery for your High output vehicle.
Properly charged, these batteries will not vent to the atmosphere, meaning less corrosion at the terminals
ISO 9001 Certified
Extremely freeze resistant
1 Year Warranty
Comments
Scorpion YT5AL High Performance Powersports batteries offer an exceptional value, for a very reasonable price. These batteries are manufactured under the highest standards, and are sure to out-perform any replacement batteries available. ISO9001 certified. This battery measures slightly smaller than the wet cell battery it replaces.
Vehicles that sYT5AL works in
| | |
| --- | --- |
| Honda 125cc NH125 Aero | 1984 |
| Honda 70cc C70 Passport | (1982-1983) |
| Honda 80cc NH80 MD Aero | (1983-1984) |
| Suzuki 200cc T200, TC200 | All Years |
| Suzuki 250cc GT250 Hustler | (1973-1977) |
| Suzuki 250cc Model T20 | 1969 |
| Suzuki 250cc Scrambler TC250 | 1969 |
| Suzuki 250cc T250, T250-II, T250J, T250R | 1972 |
| Suzuki 305cc Scramble TC305, T305 | 1969 |
| Suzuki 350cc T350 Series | 1979 |
| Suzuki 400cc TS400 Apache | (1972-1975) |
| Suzuki 600cc SP600 | 1985 |
| Suzuki 650cc DR650S | (1990-1991) |
| Yamaha 250cc DS6B, DS66C | (1969-1970) |
| Yamaha 350cc R3 | 1969 |
| Yamaha 550cc XT550 | (1982-1983) |
| Yamaha 600cc SRX600 | 1986 |
| Yamaha 600cc XT600 | (1984-1989) |
Most Helpful Customer Reviews

Battery

By

Doc

on Aug 09, 2012,

Ownership:

Just Bought,

Knowledge Level:

AC/DC is more than a band

(81 of 160 customers found this review helpful)

Pros: The battery fit with no problem. The sealed unit is nice, no spills.

Cons: No Cons

WIll order again from you when needed

By

Stan

on Aug 09, 2014,

Ownership:

Just Bought,

Knowledge Level:

AC/DC is more than a band

(80 of 158 customers found this review helpful)

Pros: VERY quick delivery! Ordered on Thursday and received on Saturday. Not bad from Oregon to Florida! Battery better than stock and came well packed - no problems, Cranked right up. Very pleased.

Cons: None.

I will not shop anywhere else for a battery

By

jb1k

on Oct 01, 2013,

Ownership:

Use regularly,

Knowledge Level:

AC/DC is more than a band

(81 of 158 customers found this review helpful)

Pros: I have more than a passing knowledge of motorcycles and electronics....And I have purchased from BatteryStuff more than once. I am picky and have not been disappointed by the product or the service.

Cons: None

Review Summary

5.00 Average Rating

Rated

5.00

/

5

Stars from

3

customer reviews.

Write Your Own Review

Do you own the sYT5AL? Please, tell us what you think about it. It helps us provide you with better products. Please note that it may take up to 72 hours for your review to appear.

Write a review
Technical Specifications
Length
4 9/16
Width
2 3/8
Height
5 1/16
Weight
4.5
Shipping Weight (lb.)
5
DC Output Voltage
12 V
Amp/Hr
5
C.C.A.
55
Charged
Ready to Install
Model:
YT5AL
Manufacturer:
Scorpion
Manufacturer Part #:
sYT5AL
Made In:
China

Instruction Manual

Download MSDS
Order Line: 1-800-362-5397
M–F 6am–5pm PST

Tech Help: 541-474-4421
Fax: 541-471-6014
276 Tech Way, Suite A
Grants Pass, OR 97526