view large photo
Swipe Photo to View More
Power Up 24v 10 Watt Lightweight Unbreakable Solar Charger BSP1024LSS
BSP1024LSS
This item qualities for
$7.50 Flat Rate Shipping *
Quantity
---
OR Simple-Click Checkout
---
In Stock
This Qualifies for FLAT RATE Shipping of $7.50 per order*
This ultra durable panel is our choice for mounting in exposed locations, and it can easily be securely attached to many surfaces for theft prevention.
---
Product InformationStore Part Number: BSP1024LSS
Overview
10 Watt Thin Solar Battery Charger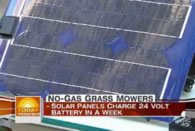 The cell strings are laminated between sheets of ethylene vinyl acetate (EVA) with stainless steel substrate. They make excellent trickle chargers and small motor power supplies. The 10 watt module is great for powering fans and fountain pumps, charging 24 volt batteries for telemetry, or for battery maintenance. This unit comes with 10 feet of cord, a sealed junction box complete with blocking diode, and a 5 year output warranty. A solar controller is recommended to improve charging efficiency.
Lou Manfredini from the Today Show offers ways to maintain your yard while being green. Learn about mowers that can be charged with this solar charger to save on electricity and help the earth. Read the Article and View the Video.
Features
24 V to 34.6 V DC peak power
0.29 A output
1.25 A to 2.0 A a day output (dependent on light conditions)
Warranty power output 5 years, workmanship and materials 1 year
Four perimeter holes allow versatile mount applications
17.5 x 10.5 x .3
10 foot of output cable
Panel weight is only 4.5 lb
Comments
RECOMMENDED CONTROLLERS

Solsum6.6f
The Solsum F Series continues the huge success of one of the most used Solar home system controllers. With a power range of up to 6.6 A and automatically recognizes 24 Volts and it fits a system sized of maximum 80 Watts.

SS-10L-24v
The SunSaver 10 is a high quality, extremely reliable but economically priced charge controller from Morningstar. Offering features such as their advanced PWM pulse charging algorithm, selectable battery type and temperature compensation.
RECOMMENDED MOUNTING BRACKETS

SLBRKT-17
This is a small Z shape mounting bracket that can be used to mount our smaller solar panels to a flat surface.
* Flat Rate shipping is for the lower 48 states only.
---
Tech Specs
Dimensions (LxWxH): 17.5 x 10.5 x 0.3 in
Weight: 4.5 lb
Shipping Weight: 6 lb
Manufacturer: Power Up
Rated Power: 10 W
Operating Current: 0.29 A
Open Circuit Voltage: 43.9 V
Short Circuit Current: 0.33 A
Manufacturer Part #: BSP1024LSS
Made In: asia
---
Customers who bought this product also bought:
---
Reviews and Ratings
---
Truely unbreakable
Pros: Use to keep battery up on a trailer the has hydraulic pump. Have had three other panels on trailer behind 1/2 plexiglass and all have broken. This unit is ten times more solid then other units. Great buy.
Cons: None I can see so far.
Quick delivery and great website.
Written by
Tom
on Oct 10, 2014.
Ownership:
Just Bought.
Knowledge Level:
Electricity doesn't scare me.. usually — (8 of 16 customers found this review helpful
---
Manuals & Tutorials