1970 BMW 500cc R50/5 Motorcycle Batteries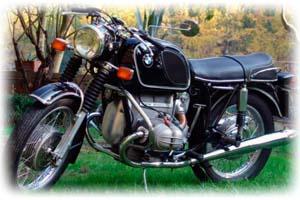 The R50/5 was the smallest of the /5 series that was launched in 1969, though still formidable by the standards of the day. Over 7,800 of these bikes were produced from 1969-1973 all of which cranked out 32 horse power at 6400 rpm. The R50/5 did not come with an electric start initially, many enthusiasts converted it over to electric start after the fact and that is why we list it here. Different people may have put different sized batteries in customized trays, but the most common battery boxes and batteries for BMW's at the time were the probable choice, and are what is listed here. If you have a converted R50/5 please measure your battery or battery box before buying one of the batteries listed here.
YT51913-22 Scorpion 12v 280 CCA Sealed AGM Motorcycle Battery
Price: $89.95
Size:
7 1/8 x 3 x 6 9/16"
C.C.A.:
280
Amp/Hr:
20
Replaces:
Standard flooded type 51913, 51814, YTX22L-BS
SST51913-FP Scorpion Stinger 12v 552 CCA LiFePo4 Extreme High Output Battery
Price: $279.00
Size:
7 1/8 x 3 1/16 x 6 11/16"
C.C.A.:
552 - As tested Midtronics model #417755
Amp/Hr:
*See Notes
LFX21L6-BS12 Shorai 12v 21 AH PBEq LiFePO4 Power Sports Battery [- +]
Price: $206.95
Size:
5.83 x 3.23 x 5.51"
C.C.A.:
315
Amp/Hr:
21 PbEq
Replaces:
HYTX14HL, YTX20HL, HYTX16BHL
FAQs
Batterystuff.com is the leading provider of replacement 1970 BMW 500cc R50/5 Motorcycle batteries. No one in the industry can match our wide selection and superior customer service. Whatever your need, we have the replacement batteries that will meet your expectations.
Order Line: 1-800-362-5397
M–F 6 am–5 pm PST

Tech Help: 541-474-4421
Fax: 541-471-6014
276 Tech Way, Suite A
Grants Pass, OR 97526