1970 BMW 750cc R75/5 Motorcycle Batteries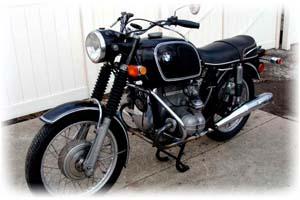 The 1970 750cc R75/5 continued BMW's successful launch the year earlier with no significant changes to the bike. With its 745cc engine delivered 44 ft lb of torque at 5000 rpm, which was applied through its 4 gear transmission. Even though this bike was only offered in this configuration for 4 short years, BMW sold 38,370 of them. Year two of this run saw the continuation of what would become a much beloved classic BMW motorcycle.
YT51913-22 Scorpion 12v 280 CCA Sealed AGM Motorcycle Battery
Price: $89.95
Size:
7 1/8 x 3 x 6 9/16"
C.C.A.:
280
Amp/Hr:
20
Replaces:
Standard flooded type 51913, 51814, YTX22L-BS
SST51913-FP Scorpion Stinger 12v 552 CCA LiFePo4 Extreme High Output Battery
Price: $279.00
Size:
7 1/8 x 3 1/16 x 6 11/16"
C.C.A.:
552 - As tested Midtronics model #417755
Amp/Hr:
*See Notes
LFX21L6-BS12 Shorai 12v 21 AH PBEq LiFePO4 Power Sports Battery [- +]
Price: $206.95
Size:
5.83 x 3.23 x 5.51"
C.C.A.:
315
Amp/Hr:
21 PbEq
Replaces:
HYTX14HL, YTX20HL, HYTX16BHL
FAQs
Batterystuff.com is the leading provider of replacement 1970 BMW 750cc R75/5 Motorcycle batteries. No one in the industry can match our wide selection and superior customer service. Whatever your need, we have the replacement batteries that will meet your expectations.
Order Line: 1-800-362-5397
M–F 6 am–5 pm PST

Tech Help: 541-474-4421
Fax: 541-471-6014
276 Tech Way, Suite A
Grants Pass, OR 97526