Overview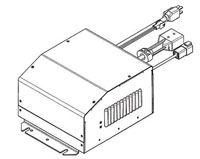 Dual Pro Eagle Series portable scissor lift chargers combine the best of two technologies. Eagle Series uses the well known reliability of a transformer and the latest in microprocessor technology controlling the charger output. This combination allows quicker recharge times and eliminates the chance of over and under charge of batteries.

When batteries are fully charged, the Eagle Charger turns off completely. Should the batteries discharge to a programmed voltage level, the Eagle Charger automatically reactivates the charge circuit and bring the batteries back to 100% charge. Eagle industrial battery chargers by Pro Charging Systems/Dual Pro use a proprietary method of adjusting charge algorithm to compensate for temperature, thus improving battery charge quality and safety.

The on-board version gives greater versatility in mounting.

Picture shown is the identical 24v20amp version.

* Flat Rate shipping is for the lower 48 states only.