Overview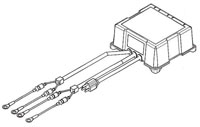 The Industrial Series charger IS2 uses advanced charging algorithms to intelligently charge batteries to optimum levels, enabling equipment to to stay in service longer before needing charging. The Dual Pro RS charger will deliver up to 6 amps per bank a total of 12 amps. Through the careful management of specific gravity levels, these chargers also extend the life of batteries reducing the need for costly replacement. These units are heavy duty and designed for industrial applications. This industrial battery charger by Pro Charging Systems/Dual Pro is made for 24-volt series system or dual 12-volt batteries in parallel configuration, or two independent 12-volt batteries. Will not work on a single 24 volt battery, such as aircraft design.
Compatible With These Manufacturers Units
Genie Aerial Work Platform Models AWP-20S, AWP-25S, AWP-30S, AWP-36S, AWP-40S, AWP-40S
- Part Numbers 6671 / 6688 / 80990
Genie Aerial Work Platform Model Numbers IWP-20S, IWP-25S, IWP-30S
- Part Number 80990
JLG Vertical Mast Lift Model Numbers 10VP, 15VP, 20VP
-Part Number 0400164
Note: While PCS IS1 chargers are compatible, PCS IS2 chargers provide lifts with additional amperage for faster charging and redundancy if one bank fails during the charging of the battery.
*Flat Rate Valid in the lower 48 United States