Best Brands for Motorcycle Lithium Batteries: 2023 Edition
Which is the best Lithium Motorcycle Battery, or what brand makes the best motorcycle lithium-ion batteries? Our tech department answers these customer questions almost daily, which can be tricky to answer because of many variables. Including which motorcycle they are being used in, how often they are used, and at what temperature they will be used.
In this article, we will try to get to some of those variables, but first, let me explain why lithium is, or is not, the right choice for your motorcycle, ATV or UTV.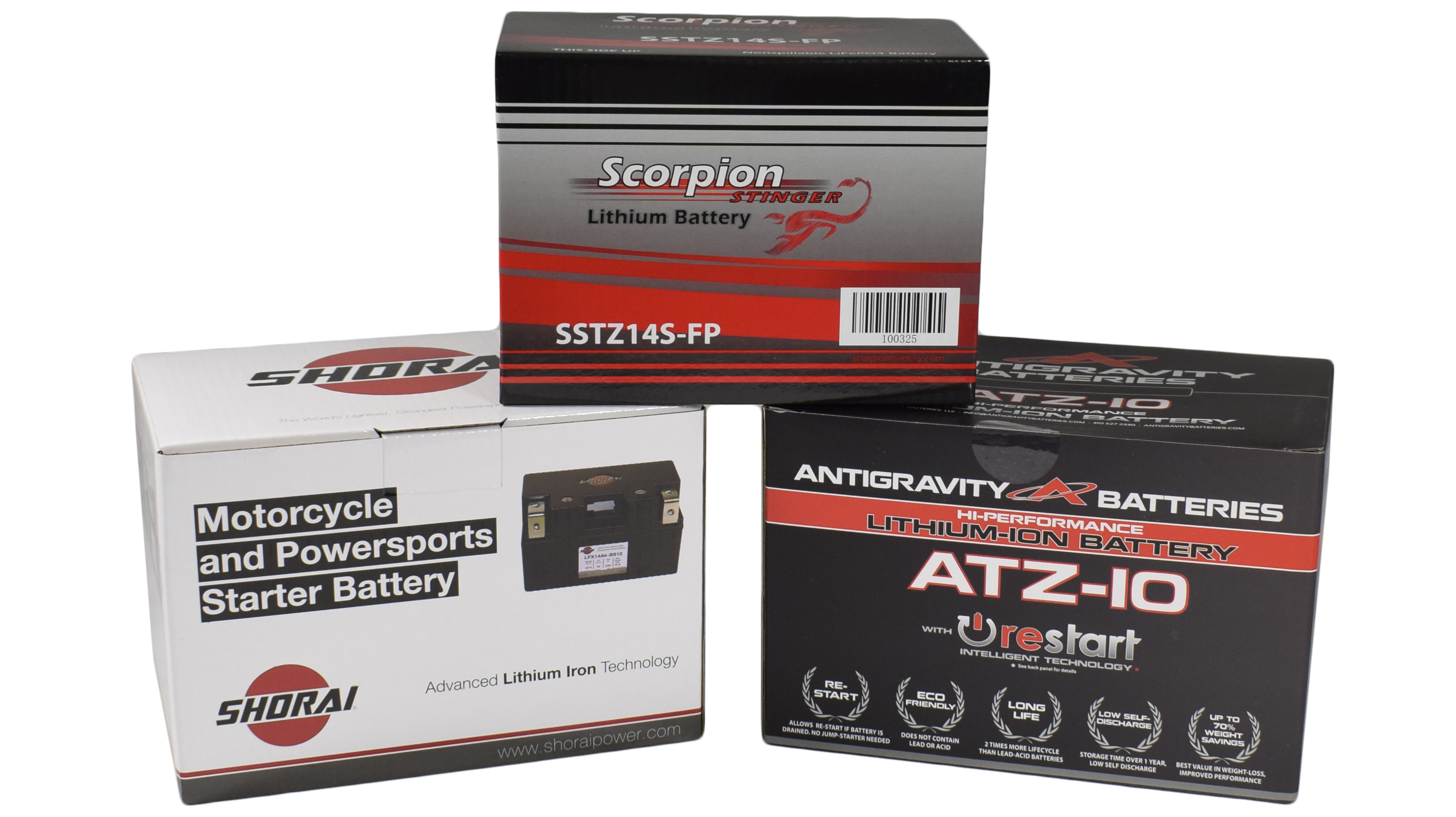 Are lithium batteries ok for a motorcycle?
When we think of Lithium starting batteries, the first things that come to mind are high cranking power and light weight. While these are both great attributes in a motorcycle battery application, it can mean that a lithium LiFePO4 starting battery is a bit of compromise. In short, it it is designed with lots of starting power but it is not meant to hold up under an extended, slow discharge. So, for those riding a stock bike with only a few accessories, or a high compression bike with no accessories, they can be a great upgrade!
What are the problems with lithium batteries for motorcycles?
A lithium battery may not be the best choice if you have a custom bike with many accessories. It will do great starting the bike but may fail to run the accessory items like a winch for as long as a Lead Acid battery would. Another issue is that Lithium does not perform as well as traditional lead-based motorcycle batteries when the outdoor temperature is at or below freezing. Lithium batteries will perform as normal down to about 40f, but as temps get lower, their performance degrades.
In summary, if you have lots of accessories like a booming stereo, winch, or lots of lights or ride mainly in below-freezing temperatures, you might consider going with a more traditional battery choice.
But that's not why you came here, so back to the original question. Which Lithium Motorcycle battery is best for my ATV, motorcycle, or UTV?
BatteryStuff has been selling batteries online for 25 years and has been evaluating and testing Lithium motorcycle batteries since they first hit the market. In that time, we have settled on the three major brands that cover just about any application and situation that might arise when considering which LiFePo4 battery is the best.
Shorai Motorcycle Lithium Batteries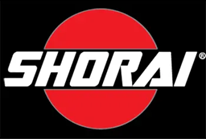 Shorai was the first major brand lithium starting battery we tested and one of the first to market. The Shorai brand of lithium batteries offers a lightweight battery in a smaller package than most other brands. While they have a few models that fit perfectly, they also package most of their batteries with foam inserts to make a smaller battery fit a larger battery box.
Shorai is also the only lithium battery to offer its dedicated balancing charger with a charge port built into its batteries. Shorai does allow their batteries to be used in custom applications up to 1800cc or 110 Cubic Inches for their larger LFX36L3-BS12 and LFX36A3-BS12 batteries.
Shorai LFX36L3-BS12 Lithium Iron Phosphate Motorcycle Battery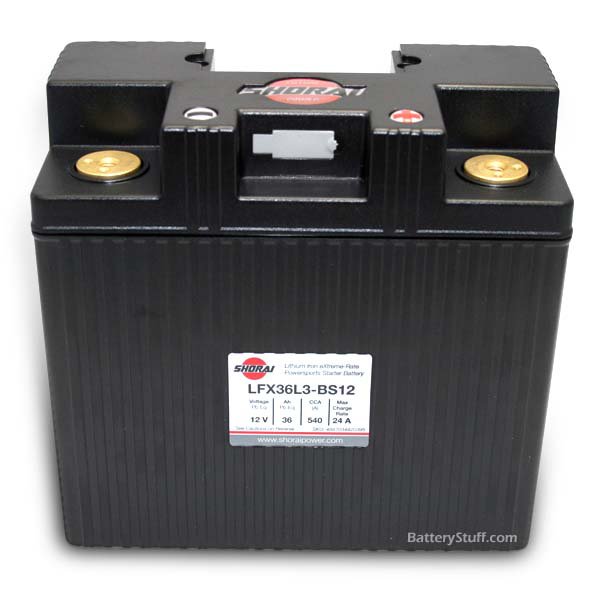 Size: 6.55 L x 3.39 W x 6.10 H in
C.C.A: 540
Amp/Hr: 36 PbEq
---
Shorai LFX36A3-BS12 Lithium Iron Phosphate Motorcycle battery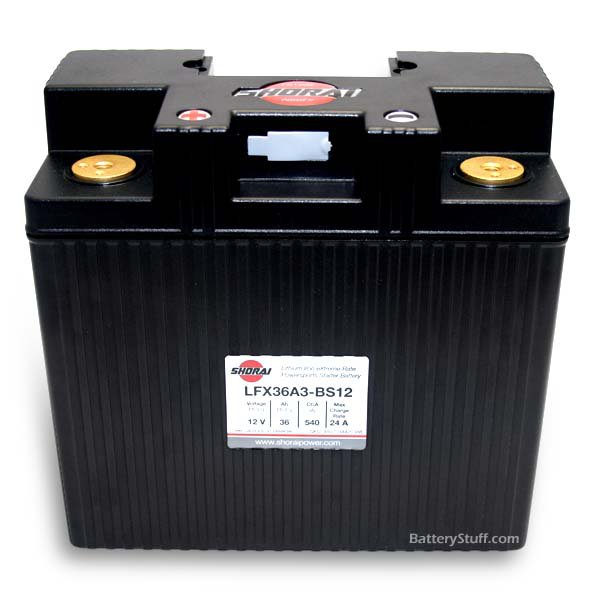 Size: 6.55 L x 3.39 W x 6.10 H in
C.C.A: 540
Amp/Hr: 36 PbEq
---
For Shorai's smaller batteries, they will stand behind their warranty as long as the battery is listed for the application the motor came from and as long as the starter gearing is the same.
Antigravity Motorcycle Lithium Batteries
Anti-Gravity Lithium batteries have a unique feature called the re-start. This allows the battery to shut itself off before it drains too deeply, preventing it from becoming damaged. This feature is great on bikes with a keyed ignition or extra accessories that may run when the motorcycle or UTV is parked. It electrically cuts off the battery when discharged to below 12.5 volts. This feature allows the user to push a button that re-connects the battery so the motorcycle can be started-thus, saving the battery and the day!
Antigravity is our go-to battery for those that have custom applications. Antigravity issues engine specifications that their batteries are good for and can be found on our Antigravity product pages.
Antigravity ATX-12 12v 360 CA RE-START Lithium-Ion Battery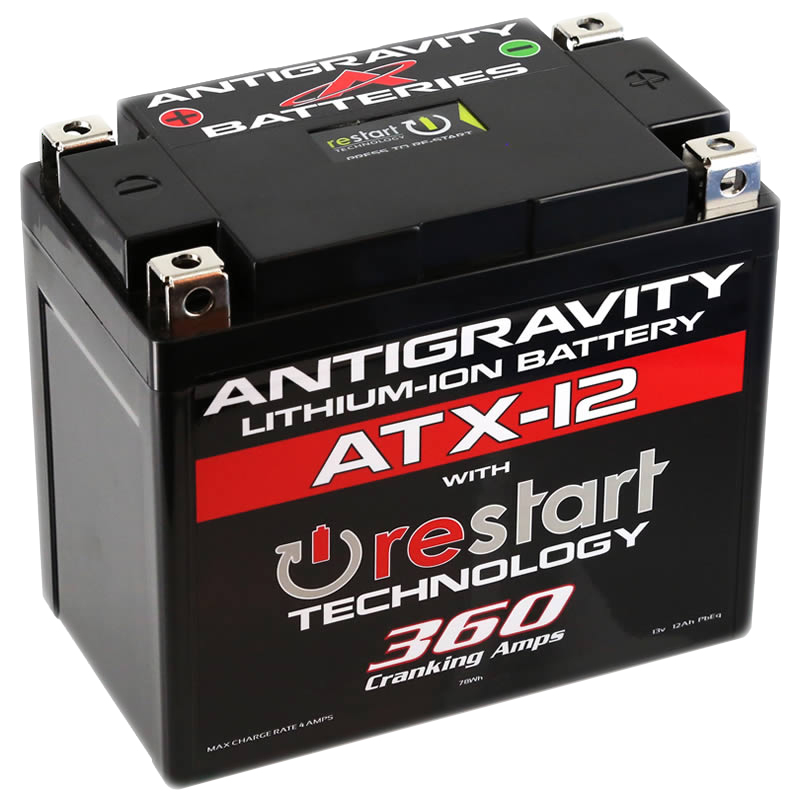 Size: 5.9 L x 3.46 W x 5.12 H in
Cranking Amps: 360
Replaces OEM: YTX12 / YTX14 / YTX14H / YTX16-BS / YTX16-BS-1 / GYZ16H / GYZ16HL
Excellent for every day use in stock bikes up to 1200cc
---
Antigravity ATZ-10 12v 360 CA RE-START Lithium-Ion Battery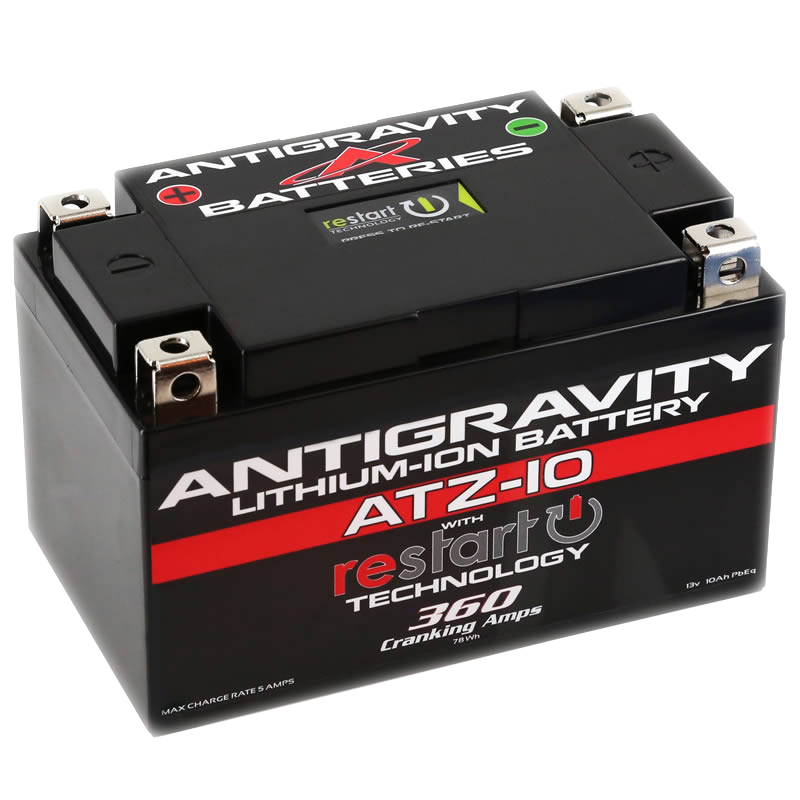 Size: 5.9 L x 3.5 W x 3.74 H in
Cranking Amps: 360
Replaces OEM: YTX7A-BS / YTX9-BS / YTZ10S / YT12A-BS / YTZ12S / YTZ14S
Excellent for every day use in bikes up to 1000cc
---
Scorpion Stinger Motorcycle Lithium Batteries

Scorpion Stinger lithium batteries are our final choice in the top-of-the-line options in Lithium. These lithium LiFePo4 batteries are probably the best "bang for the buck" available today. These potent batteries come in many case sizes, so in most applications, no or little foam/spacers are needed to make them a direct-fit replacement. The main advantage is that they supply as much as 2x the starting power as the OEM battery, delivering more power than an AGM or lead-based battery ever could.
One of the great things about Scorpion is that they do all this at the most competitive price and are the only one of the three choices here to provide a two-year free replacement warranty. The Scorpion Stinger batteries are application specific, so be sure to use our Battery Finder to be sure you are using the correct battery in the right vehicle.
Scorpion Stinger 12v 219 CCA LiFePo4 Extreme High Output Battery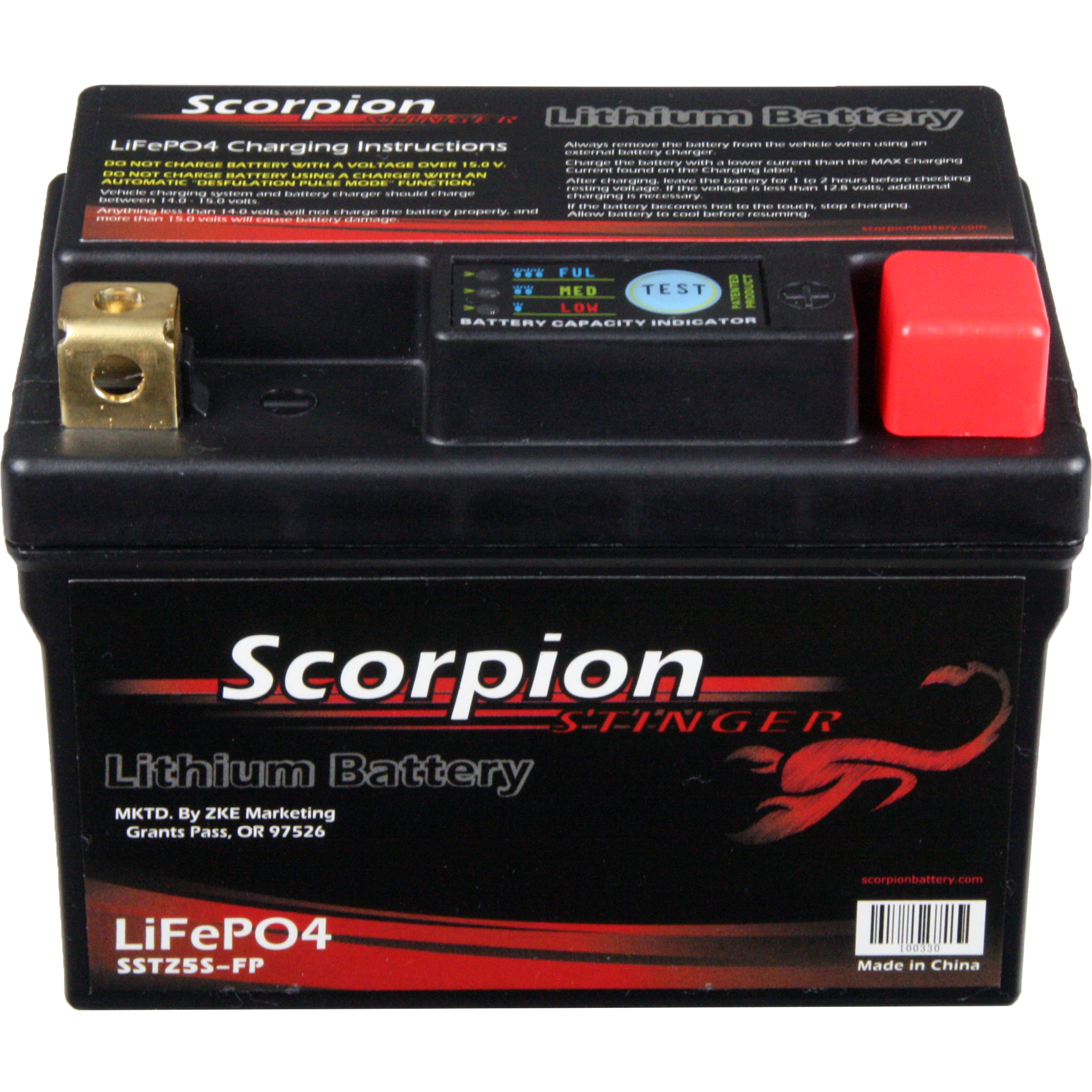 Size: 4.44 L x 2.75 W x 3.32 H in
CCA: 219
Replaces: YTZ5S / YTX4L / YTX5L / YTZ7S
Perfect for stock application that use the above batteries! Check Fitment Here!
---
Scorpion Stinger SSTX20HQ-FP 12v 525 CCA LiFePo4 Quad Terminal Extreme High Output Battery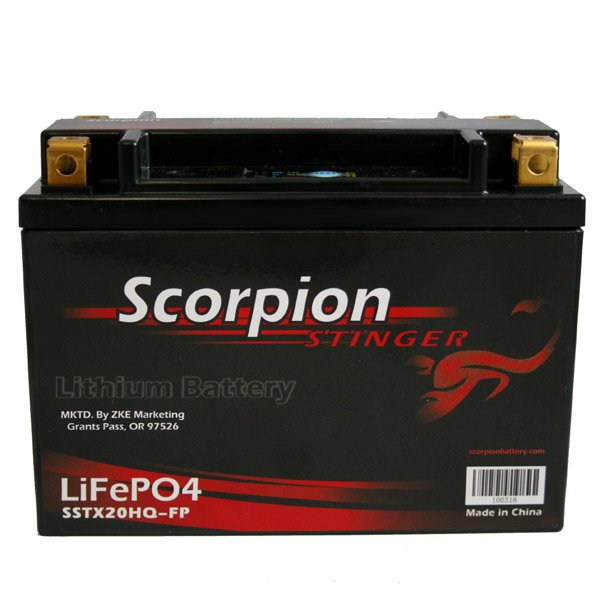 Size: 6.88 L x 3.44 W x 5.13 H in
CCA: 525
Replaces: YTX20H(L) / YTX20(L) / YB16L-A2 / YTX24HL / GYZ20H(L) / YTX18L / YB16C(L)-B / HVT-4(5)(6)
Perfect for stock application that use the above batteries! Check Fitment Here!
---
Do I need a special charger for a lithium motorcycle battery?
For general usage, Lithium batteries have a very low self-discharge rate and will not necessarily need the same maintenance charge regimen as a lead-based battery. For this reason, we recommend the purchase of a lithium charger, such as the Opti-MATE charger for the Scorpion & Antigravity Batteries or the Shorai Charger for their batteries.
We realize that not everyone is excited about purchasing a lithium charger when switching to a lithium battery. Assuming your battery isn't excessively discharged, you can use a standard low-output powersport maintenance charger to recharge your lithium battery. We do not recommend leaving it on for long-term maintenance as you would with your lead-based battery. Recharge until full, then remove the charger. If the battery has been excessively discharged we do recommend a lithium charger as they have safe recovery modes necessary to recover a lithium battery.
You can find the right lithium via our Powersport Application List or contact us if you have further questions. BatteryStuff.com is THE best source for lithium batteries. Batteries you can trust, with the knowledge you can count on. We have the stuff!