view large photo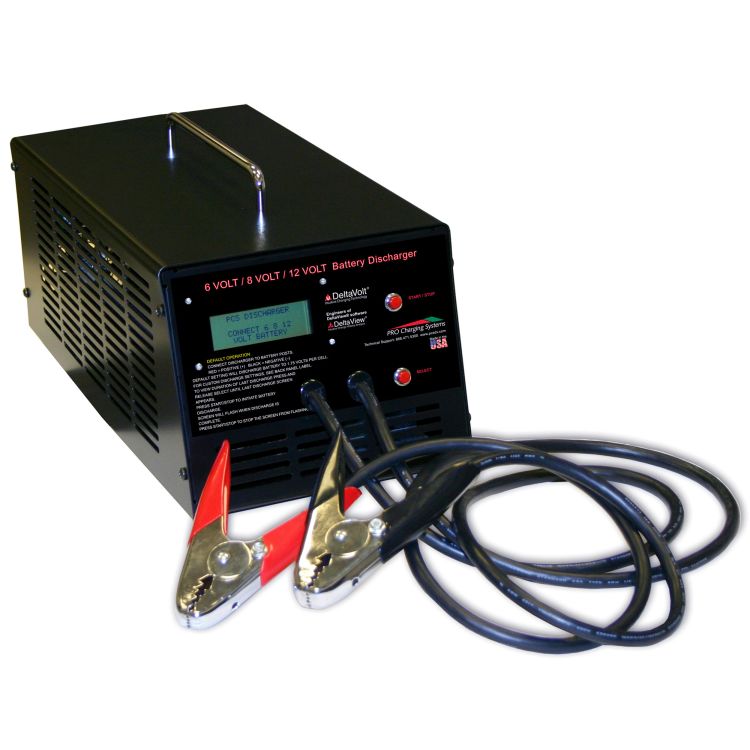 Pro Charging Systems 6V / 8V / 12V Battery Discharger - BD6812
BD6812
Was: $793.99
Sale Price:

$

684.95
- No Tax
This item qualities for
$7.50 Flat Rate Shipping *
Out of Stock
---
Product InformationStore Part Number: BD6812
Overview
The Pro Charging Systems (Dual Pro) Battery Discharger (BD6812) is designed to accurately discharge 6V, 8V, and 12V batteries utilizing a resistive load. This device can be used in conjunction with our Battery System Balancer (BSB) in order to sort and regroup batteries that are in the same condition to eliminate unbalanced batteries in a bank. This will greatly extend the lifetime of batteries in a fleet application, due to the fact that balanced batteries charge evenly and therefore more completely.
Features
Self-Diagnostic Test – BD6812 has the ability to test all internal components for proper operation. Progress is displayed on the LCD screen during the testing process and results are displayed upon completion.
Low Voltage Warning – A message is displayed on the screen if the user connects a battery voltage below the normal operating range. The voltage of the battery is also displayed.
Simple Operation – The push of a button initiates a full discharge test. The default setting discharges the battery to 1.75 volts per cell (VPC).
Custom Operation – The user has the option to adjust the discharge time and/or finish voltage to desired values.
Final Results Displayed – Starting Voltage, Ending Voltage, Discharge Minutes, Amps Removed, Watt Hours Removed
Reserve Capacity (RC) – Computed and displayed for 12 volt batteries when utilizing the default setting.
Microprocessor Control – Provides the BD6812 with superior accuracy and performance.
Reverse Polarity Warning – An audible alarm is triggered if the cables are not attached to battery posts correctly.
Previous Discharge Information – Automatically saved for easy retrieval.
Durable powder coated 5052 Aluminum enclosure provides exceptional corrosion resistance
AC Powered to assure safe, reliable operation and eliminates risk of low voltage "brown out" and battery damage.
Termination voltage and discharge time can be easily changed (Nominal discharge rates: 75 amps for 6V and 12V batteries, 56 amps for 8V batteries.)
Comments
*Flat Rate Shipping only valid withing the Lower 48-States.
---
Tech Specs
Dimensions (LxWxH): 17.5 x 9.5 x 8.5 in
Weight: 13.4 lbs
Model: BD6812
Manufacturer: Pro Charging Systems
Shipping Weight: 17 lbs
AC Input: 85 – 265 VAC @ 1 A, 50-60 Hz
Manufacturer Part #: BD6812
Made In: USA
---
Reviews and Ratings
---
Manuals & Tutorials