Battery Tender Digital Voltage Indicator with LCD Display- BT-081-0157
Price:

$

16.95
No Tax

BatteryStuff Part #:
BT-081-0157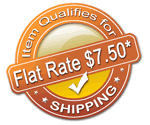 This Qualifies for FLAT RATE Shipping of $7.50 per order*
Fits Battery Tender, Battery Minder, and some Global Solar products.
Battery Tender Digital Voltage Indicator with LCD Display- BT-081-0157
Product Description
The Battery Tender Digital Voltage Indicator is designed for use on 12v Flooded, AGM and Gel batteries. It displays voltage between 3 to 16 volts. When the button is pushed or initially plugged in it will display the voltage, and has three indicator lights to let you know your batteries condition: Green (Battery Charged: Greater than 12.0v), Yellow (Battery is Low: 11.6 to 12.0v), and Red (Battery is Discharged: Less than 11.6v).
Features
LCD Voltage Display
Displays voltage from 3V to 16V
Resolution is +/-0.1 volts
Red LED Flashes when voltage is low
Comments
This product plugs into the end of your quick connect harness, and gives you an instant reading of the voltage of your battery while installed in your powersports application. No need to remove the seat or side panels to get a quick check of your batteries state of charge. * Flat Rate shipping is for the lower 48 states only.
Most Helpful Customer Reviews

Good tool to have

By

Randy

on Mar 12, 2016,

Ownership:

Use regularly,

Knowledge Level:

Genius is my way of life

Pros: I have not been using this device that long, but so far it has worked well for my purposes. I'm using it mainly to check the power level of battery operated sprayers that have no battery charge indicator on them. I think this tool will help me to preserve my batteries by not overly discharging them. I'm using a maintainer to keep the batteries charged after each use.

Cons: The display on the device is not lit making it hard to read in dim light. Other than that I love it. It does what I need it to do. I can hook it directly to my sprayer's charge outlet and tell where the battery level is at or I can hook it to a battery that is outside the sprayer with an attachment I have with one of my maintainers.

Other Thoughts: Battery powered devices like sprayers and such should come standard with a battery level meter. The vast majority of ones I've looked at with only one exception do not have it. This makes it VERY, VERY easy to ruin the battery on a sprayer either by over charging or letting it get undercharged. I learned this the hard and costly way.

Review Summary

4.00 Average Rating

Rated

4.00

/

5

Stars from

1

customer reviews.

Write Your Own Review

Do you own the BT-081-0157? Please, tell us what you think about it. It helps us provide you with better products. Please note that it may take up to 72 hours for your review to appear.

Write a review