12 Days of Christmas Specials

Christmas Season is here and we are celebrating by offering 12 daily specials starting on December 7th. Each day, we will feature a NEW ITEM that will be on sale that day only. 12 days means 12 items on sale, with a variety of battery chargers, solar panels, inverters, jump packs, and so much more. Pricing on these items will blow you away! LIMITED TO STOCK ON HAND, SO DON'T WAIT!
HERE'S A SNEAK PEAK OF OUR FIRST ITEM
If you would like to receive these special daily offers, please opt in here. Simply check the box labeled '12 Days of Christmas' and you're good to go!
SOMETHING SPECIAL EVERYDAY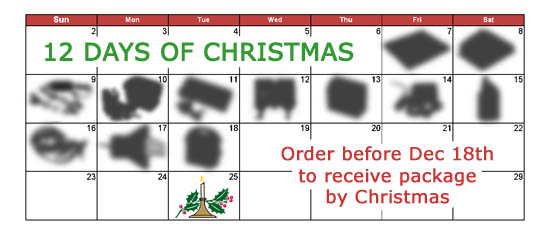 YOU MUST OPT IN to receive a total of 12 emails, each featuring a different item and a coupon code for each. Keep an eye on your inbox each day from Dec 7th through Dec 18th and you'll find something unique everyday. It's THE chance to find the perfect gift for yourself or someone in your family.
OPT IN to the 12 Days of Christmas e-mail list
Be automatically entered to win a $100 Gift Certificate
Receive info and coupons for cool stuff at blowout pricing each day
Buy cool stuff at cheap prices, impress your friends
We wish everyone a Merry Christmas and blessings to you and yours!
Coupon codes are good for sale days only. Limited to quantity on hand.
Coupon codes are issued at 8:00 AM PST and expire the next day at 8:00 AM PST.
Gift Certificate drawing will occur on the 12th day, December 18th.
Gift Certificate redeemable online only at www.batterystuff.com
Was this information helpful? Sign up to Get Updates and Offers.
Written on by
Anthony Rico
with
BatteryStuff.com
Modified on
12 Days of Christmas Specials