2013 AMA National Western Hare Scrambles- The Funky Chicken

Round 5 of the AMA Western Hare Scrambles is in the bag, and it was another great day at the Big K ranch in Elkton, OR. Put on by the ETRA club and sponsored by KTM Country, it promised to be a memorable event. I surely cannot speak for all the other participants, but I can tell my story. Well, at least the way I remember my story...
Last year, I raced in the Senior A class, known locally as the 40 Expert class and after a good start slowly worked my way back to 5th place. For the 2013 Event, my goal was to get a good start and try to hang tough to a better finish. I'll get to that finish in a minute, but for now will give you a lap by lap tale.
The Start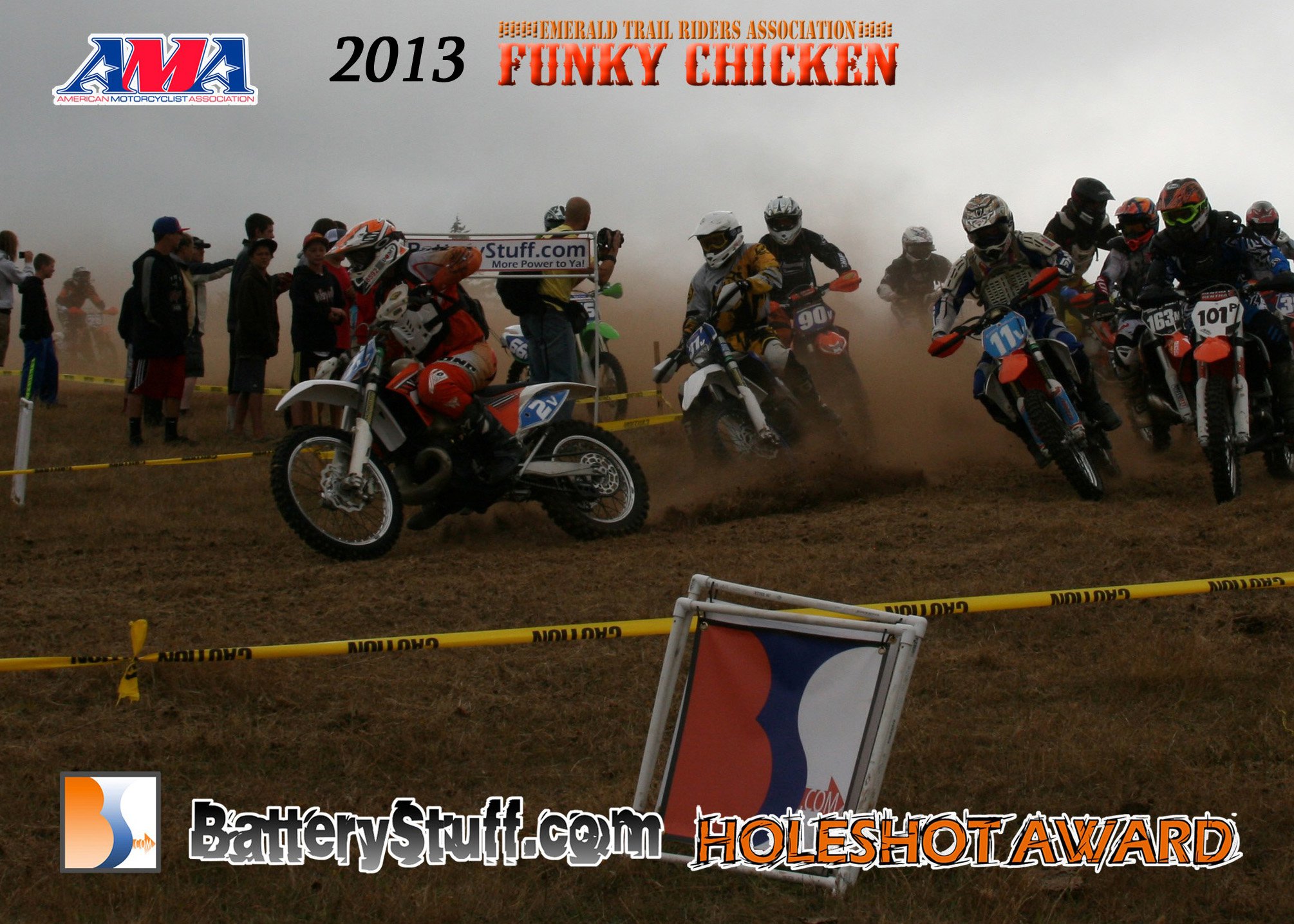 I had a pretty good start. In fact the Scorpion Stinger Lithium battery that I installed the day before got my bike started perhaps faster than any other on the line. Unfortunately, I am pretty well resigned to starting the XC-F 350 in neutral and then shifting to 2nd. This quarter second delay was enough to give the other machines on the line about a bikes length before I got rolling along. No worries though, right? Just tape the throttle wide open and start banging gears to the first turn and it is all good. This approach got me third through the corner following Rick Goodman and Dave White. Congrats to Dave on winning the BatteryStuff.com Holeshot award. Now you have what you always wanted, a picture with me in it for your trophy collection.
Lap 1
The dust was pretty bad, but I was close enough to the leaders that I could still keep a good bead on the helmets so it was at least ride-able. Following Rick and Dave close enough that the dust wasn't a problem led to us breaking away a bit from the pack and really turning on the speed. It wasn't too long before I rounded a tight corner and saw Dave picking up his bike while revving the holy hello out of it. I figured it was just a 2 stroke thing, and followed Rick around him. We hit an open section down by the entry gate and I made a pass on Rick for first.
Yeah, I was a bit cocky about it, and gave him the universal 'Flying W' signal that meant "Ha, I got Ya! " Funny how that usually works out though. Sure I made the pass stick, but it wasn't too long before I misread the trail and went left where the trail went right. I found myself right in the middle of a berry patch, completely surrounded by vines. I for sure could not go backwards, and forward looked painful. After a momentary pause that seemed like 2 minutes but was more like 10 seconds, I just put my head down, tucked in tight to the bike, and jammed my way forward and out the other side. I had no idea how many bikes went by me then, but I guessed about 5. I got back up to speed pretty quickly, made some passes and caught back up to Rick by the time we hit the out check on the grass track We went thru the check perhaps a second apart and I made my move when we crossed the log matrix, out throttling him off the other end and into the next corner. This put me into what I believed to be first place.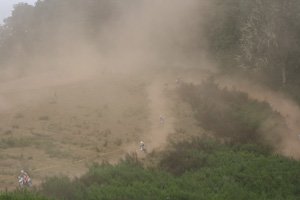 The remainder of the lap was pretty much uneventful, except for the final road jump. I caught a rider from a previous wave at the bottom of the hill, and drag raced him up towards the jump. I really thought I was going to beat him as we were side by side up the hill with me on the right. He bobbed a bit my way right near the top and I briefly chopped the throttle to avoid a collision. Having not done the jump yet, I was not sure either of us had the speed needed to clear the road, and I thought he was coming my way to go around. The result being that I aborted at the last moment and went right across the ribbon and up the hill somewhat behind him clearing the jump. The jump was perhaps a half mile from the end and the remainder of the lap was uneventful.
Lap 2
Dust. Did anyone mention the dust? It was all pervasive, it was omnipresent, and it was all powerful. It made passing a bit challenging, and line selection a chore. Despite this, I had a good lap two, with no tip over's or stalls. I did have a 'fun' pass across the lower field section where I passed a guy that was passing a guy. Neither had any idea I was there until it was over, and I bet I gave them a bit of a surprise as we dove off the end of the field into the dusty cow chopped trail. The line up the final hill was clear and the jump was smooth sailing for both this pass, and the rest of the race laps.
Lap 3
By lap three I was really, really tired. The combination of the heavy dust, deep chop and tight woods just wore me down. At this point I started to make my journey from me riding the bike, to the bike riding me. The new 350 was great, and I am sure a lot less of a handful than the old 450, but even still it started to get hard to hang on to. I even turned the map switch down to the low power setting. I am sure the new flexx bars soaked up a bunch of the abuse that normally would transmit to my hands and I have no doubt that helped keep me on the bike. I pitted on this lap, and had a somewhat slow pit due to the quick release can not being fully pressed into the gas cap. When I was ready to go, we noticed the issue and had to 'fill' the gas tank again.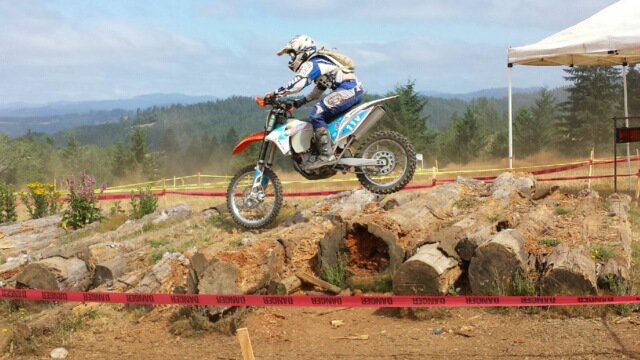 I got out of the pits ok, but 2-3 corners later I noticed Dave Morton was about 50 ft behind me. That, and Dan Harte waving his arms madly at Dave to catch me lit a fire under my seat and got me going for the remained of that lap. I was able to put some riders between Dave and myself, so I am sure the extra dust put the binders on his charge. I did not see him again until the finish of the race.
Lap 4
As I said earlier, I believed myself to be in first place, which was a great motivator to keep on keeping on. I was absolutely spent on energy, and I made a few minor mistakes on this lap which lead to a couple tip overs. One of those was in a section that must've had 12 inches of powder that was hiding 8 inch rocks. What looked like a line/rut was just the mark of the last bike thru and did not track very well. Later in the lap, a previous rider had dislodged a HUGE poison oak vine that was across the trail at just over handlebar height. Being that it was on the blind side of a corner, I hit it moving along pretty good. Yup, it cleaned me right off the back of the bike, just like Willey E Coyote or Tom and Jerry, my bike left me lying there alone in the dirt. Once I got back up and moving again, the rest of the lap felt like merely a battle to keep from passing out…
Final Lap
This lap was only about survival. Too bad too, because it was relatively dust free. I finally had clear air, but no energy to take advantage of it. I had moved up about as far as I was going to, and no one was catching me, so it was just a battle with myself. I had to keep telling myself, 'no mistakes, no errors, no mistakes, no errors…' But, as my wife might attest, I am not always a good listener.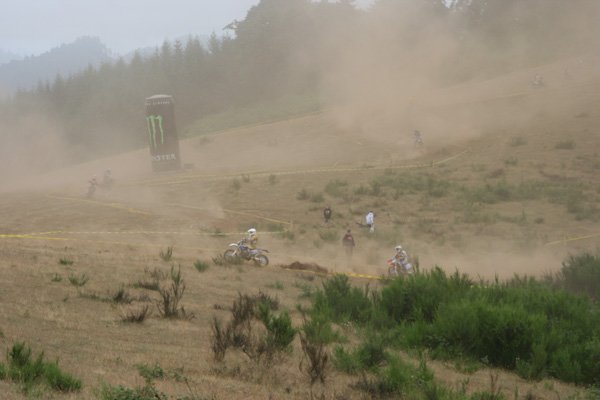 There was one good hill climb about half way out on the course that I caught a guy at the bottom of and thought I could pass him going up it. I nearly pulled it off but ran out of trail at the top and the left hand turn. Out of the corner it opened up across a short field section, where I thought I could finish the pass. The only issue was the dang dust. I just could not see well enough to pass, but that did not stop me from trying.
When I dogged to the right to go around the rider I hit something pretty hard which promptly sent me into a tail spin. It was one of those crashed that could have been a race ender. It took perhaps 30 seconds or so to recover my wits and do an inventory check but somehow I escaped with only a scraped up knee and a bruised ego. That, and a renewed sense of 'hey dummy, knock that off!" haunted me the rest of the lap. Fortunately I did manage to not hit the deck again and finished the race in second. Second? Yea, I thought that I caught everyone after my trip to the brier patch, but apparently Pat Corelli made a move and never looked back, leading to about a 2 minute victory. Not that I could've done any different had I known he was up there, but I sure did have myself fooled...
Special Thanks
Congrats to all that competed, and to the guys in my class who undoubtedly kept me honest the whole race. Thanks again to the club, course workers, and the scoring team for putting on another fantastic Funky.
Was this information helpful? Sign up to Get Updates and Offers.
Written on by
Anthony Rico
with
BatteryStuff.com
Modified on
2013 AMA National Western Hare Scrambles- The Funky Chicken