Batteries for Back to School Supplies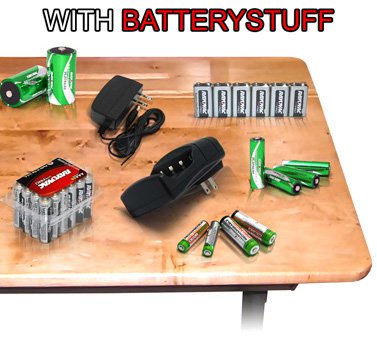 What's on your list of school supplies? Pencils, pens, paper, and backpacks? Nowadays, there's probably a scientific or graphing calculator, music player, electronic notebook, tablet, handheld gaming system, and phone added to that list. Some of those items are disputable as school supplies...but ask your teens and they'll say otherwise. We're living in a high tech world where even the teachers will have cool gadgets to take attendance with or to display the lesson of the day.
You can't have working electronics without batteries.
That's where we've got you covered. Although we specialize in lead acid batteries, we are also a proud distributor of Rayovac Alkaline and NiMH rechargeable batteries. These make great back to school supplies. If your household is the kind that go through AA and AAA batteries like hotcakes, have you considered using NiMH rechargeable batteries? They're very cost effective if you find yourself buying new batteries regularly.
By design, Nickel Metal Hydride (NiMH) batteries are perfect for applications that run regularly. This includes school supplies like:
calculators
photo printers
alarm clocks
voice recorders
remote controls
electronic pens
and more
With the use of a NiMH battery charger, your batteries can be used again and again.
For applications that require a slow but constant source of power, such as security systems, room alarms, flashlights, and emergency supplies, we recommend using the Alkaline batteries. They discharge slower than NiMH and they can be stored for a long time before use. But remember, they can only be used through one cycle.

Either way, we've got the batteries you need for all of your back to school supplies. Rayovac batteries last just as long as Energizer batteries, but they are more affordable. We carry the following sizes: 9-volt, AA, AAA, C, and D cells. We even have the CR123A lithium batteries used in digital cameras.
School has started. Make sure do you or your children don't go to class unprepared. Buy your batteries for back to school supplies right here, at BatteryStuff.
Was this information helpful? Sign up to Get Updates and Offers.
Written on by
Anthony Rico
with
BatteryStuff.com
Modified on
Batteries for Back to School Supplies