Product Review | Battery Tender Plus 12 volt 1.25 amp 4 Stage Smart Charger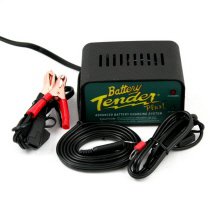 This is a very popular 12 volt unit for battery storage. The
Battery Tender Plus
is a 1.25 amp battery charger designed to fully charge a battery and maintain it at proper storage voltage without the damaging effects caused by trickle chargers. The E-Z quick disconnect harness (1 of each ring ends and alligator clips included) allows you to leave the charger wiring attached to the battery while operating the vehicle. Battery Tender Plus will not overcharge or boil battery when connected long term. Our most popular battery charger/maintainer having a 10 year manufacturers limited warranty. Each Battery Tender ships with one each quick disconnect ring set and alligator clips. Features:
Temperature compensated to ensure optimum charge voltage according to ambient temperature.
Automatically switches from full charge to float charging mode.
Reverse Polarity Protection to ensure user safety.
Complete 4-step charging program (Initialization, Bulk Charge, Absorption Mode, and Float Mode)
Built-in Mode Indicators
Spark Free Hook Up
Perfect for Wet Cell, AGM, and VRLA Batteries
Demand Sensing
Reverse Polarity Protection
Short Circuit Protection
Thermal Protection
Temperature Compensation
10 Year Warranty
Was this information helpful? Sign up to Get Updates and Offers.
Written on by
Anthony Rico
with
BatteryStuff.com
Modified on
Product Review | Battery Tender Plus 12 volt 1.25 amp 4 Stage Smart Charger