Product Review | Interphone F4 Bluetooth Headset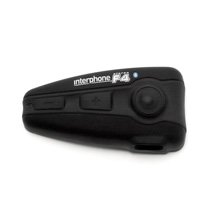 The new Interphone F4 integrates and improves on all the features which have made Interphone a leading product in the motorcycle and bike-to-bike communication market. You can link the Interphone F4 to any Bluetooth enabled device, including cell phones, media players, GPS systems, and more. BlueAnt specializes in revolutionary rider communication, and with the new Interphone F4 they have held nothing back. It has exceptional range, sound quality, strong design, easy usability, and has been designed to hold up to the toughest abuse. F Series Interphone comply with CEI EN 60529/1997 (ex CEI 70-1), and are the only ones certified as IP 67 (waterproof and dustproof).
Features
Full duplex communications with Digital Signal Processing (DSP).
Stereo speakers with automatic "speed noise" compensation.
Ability to pair with up to 8 different Bluetooth devices.
Can pair to two cell phones during any given session.
A pair of active F4 intercoms can carry on simultaneous cell phone conversations
Pairs with Bluetooth-enabled GPS, cell phones, music devices, etc.
Pairs with other earlier Interphone Bluetooth intercoms.
10 hours of talk time and 700 hour standby time (battery not removable).
Distributed in the U.S. by BlueAnt and covered by their two-year warranty.
Meets excellent IP-67 waterproof and dust proof standards
Conclusion
Our riders use these and they work great! The headset is firm and will not easily fell off your helmet. If you have more than one, conversing with family can make your expedition safe and fun. Hands down, this is one the best headsets available on the market today. 5 Stars out of 5.
Was this information helpful? Sign up to Get Updates and Offers.
Written on by
Anthony Rico
with
BatteryStuff.com
Modified on
Product Review | Interphone F4 Bluetooth Headset