Product Review | Noco Switch Mode Multistage charger 3.5 Amp G-3500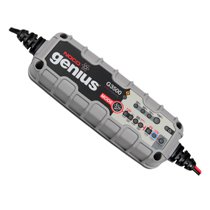 The G-3500 Smart Charger by Noco is a 3.5 Amp battery charger designed to charge and maintain medium batteries. This is a perfect charger for cars, SUVs, boats and trucks. Noco uses true Switch mode technology in this super efficient line of chargers. This charger has a noise factor of 150mV, less than 50db. This charger is a true multistage, microprocessor controlled charger that will not overcharge your batteries ever. Also incorporated in this unit is the ability to adjust to low voltage input, which could happen if running it off of a generator or a very long extension chord.
This charger can operate off of as low as 85VAC and all the way up to 130VAC and will withstand voltage surges up to 2000VAC. One of the most unique features about this charger is that it is capable of charging both 6 and 12 volt batteries. It also is capable of bringing a dead 12 volt battery back from as low as 2 volts. The G-3500 is a 6 and 12 volt charger that charges at an ideal amperage level for medium size cars, trucks, SUVs, and UTVs. This charger will charge and maintain the battery in your vehicle at an ideal state using the internal microprocessor.
Features
| | | |
| --- | --- | --- |
| Advanced 5-Step Charging Profile | 3.5 amps charging current | Variable Input Compensation |
| Rapid Charging Technology | Dual Mode for 6 and 12 volt batteries | |
| Chargers Wet, Gel, MF and AGM Batteries | | Protects against user errors |
| | ETL approved for USA and Canada | |
| | | |
| Reverse Polarity Protection | | |
| | | |
| | | |
| | | |
Was this information helpful? Sign up to Get Updates and Offers.
Written on by
Anthony Rico
with
BatteryStuff.com
Modified on
Product Review | Noco Switch Mode Multistage charger 3.5 Amp G-3500