Race Report - Jason Thomas wins 2nd in GNCC Series

JASON THOMAS BEGINS DEFENSE OF HIS GNCC PRO XC2 CHAMPIONSHIP WITH A SOLID 2ND PLACE FINISH AT RD. 1
DirtWise Schools Maxxis team racer Jason Thomas rode to a magnificent second place finish in the XC2 Pro class at Round 1 of the GNCC series, held in perfect conditions at River Ranch (Lake Wales, FL) on Tuesday, March 12.
Early morning rains settled the abundant dust, but didn't stop the formation of a multitude of nasty whoops in the sandy soil, plus exposing a plethora of palmetto roots around the demanding 13 mile course. Thomas was able to make a great jump off the line at the start of the 3 hour long race that put him near the front of the pack where he was content to just follow along behind World MX and AMA Supercross frontrunner, Zach Osborne. Just before the mid point of the race Jason's main competitor for this year's title chase, Andrew Delong, joined the mix and began to start pushing the pace which ultimately took Delong to victory, with Thomas finishing one minute behind for a solid runner up position.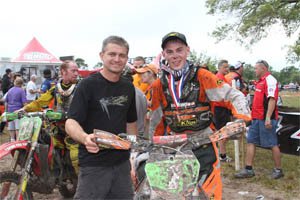 Jason Thomas was very pleased with this opening round result and went on to say, "I had such fun time out there today and was stoked to finally get the season started. I was riding pretty steady until Andrew upped the pace. Unfortunately I lost touch with both of them when I witnessed Mike Lafferty have a huge crash and I stopped to see if he was okay. From there I just rode a solid race to the finish, making a nice pass on Zach during the last lap. My endurance was excellent, and my Enduro Spec tuned suspension was flawless so I was ready at the end to go for another 3 hours, however though I will admit my sprint speed was off just a tad due to the limited preparation time I've had coming into this race. I'm excited to build upon this with another strong result at the next race and go for the victory at the following races once I get a bit more time on the bike to fine tune my conditioning."
Team principal, and former GNCC Overall Champion, Shane Watts was estatic with Jason's performance. "Jason really proved himself as a title contender today! The determination and desire to win that he exhibits is extraordinary. Combining that with his maturity and years of experience is going to bode well for him to repeat as the GNCC series Champion again this year, although we will be expecting stiff competition from Andrew at each race, and also from some of the other younger riders as the season progresses."
Round 2 of the GNCC series will be conduct near Athens, GA this Sunday, March 17.
Jason Thomas is supported by DirtWise Riding schools and Instructional DVDs, KTM-Parts.com and AMOC, Maxxis tires, KLiM Technical Riding gear, Smith goggles, Lazydays RV, Stuk Graphics, Enduro Spec suspension tuning, DirtTricks sprockets and brake rotors, Flexx Handlebars, G2 handguards and throttle tubes, Rescue Pegs, BatteryStuff.com, Motorex Lubricants, IMS fuel tanks and footpegs, FMF exhausts, TCX boots, Asterisk knee braces, DP brake pads and clutch plates, TM Designworks chain guides, and KTMTalk.com
Was this information helpful? Sign up to Get Updates and Offers.
Written on by
Staff
with
BatteryStuff.com
Modified on
Race Report - Jason Thomas wins 2nd in GNCC Series