Special Feature | Ride with Shane Watts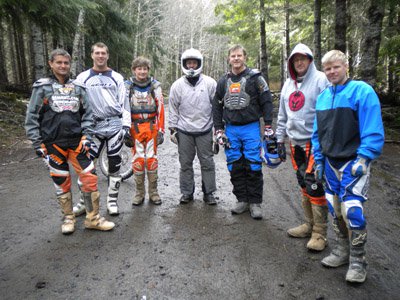 One of our own is out riding with Legendary off-road racer, Shane Watts! (Shane's the one on the left). Rain or shine, these fellas ride all day long! Let's give 'em a cheer!
For those who don't know Shane Watts personally, here is a breif bio on Shane from his website:
Shane Watts grew up in a small country town in the state of Victoria. He progressed through club level racing to the national championship and then spent three years chasing the World Enduro Championship in Europe. In 1999, Shane made the move to the United States to race in the Grand National Cross Country series. Shane has just started his 13th year racing for KTM.
Some of the unique accomplishments of his career include: the only rider to win the ISDE Overall on a 125cc, first non-American to win the GNCC series, only rider to win GNCC races on two or more different engine capacity motorcycles (six different capacities in one year), gaining a National top 100 number for American Motorcross, and just missing a qualifying position for the Daytona Supercross.
Was this information helpful? Sign up to Get Updates and Offers.
Written on by
Staff
with
BatteryStuff.com
Modified on
Special Feature | Ride with Shane Watts