Black Friday, Shop Small Saturday, & Cyber Monday

Thanksgiving is just around the corner. I'm sure we're all going to get our fill of turkey and stuffing. And true to every year, Black Friday is the time of year frugal shoppers get their holiday shopping done. If you're not the type to wake up at the crack of dawn to snag great deals, no worries. Lucky for you, we're having a Customer Appreciation Sale, which will last all weekend long. It starts Black Friday, November 23rd and it ends on Midnight on Cyber Monday, November 26th. Here's a break down of what to look forward to:
Red Tag Items

We've selected our most popular items and reduced their prices during this Thanksgiving weekend! This includes the Shorai lithium battery that everyone is talking about, the LFX14L2-BS12! Shorai batteries are high performance, yet very lightweight. Have you thought about upgrading your from old lead acid battery? Lithium technology is the future of power sports batteries!

Also on sale is our Noco Genius Wicked Smart Charger, the 6v/12v 1100 mA charger, the G-1100! This is perfect for charging your dead motorcycle or car battery, and also keeping it maintained during the cold months in storage. Come next spring, your battery will be topped off and ready to go!
Other items on sale include pure sine wave inverters, emergency jump start packs, SLA batteries, and more! Remember, the sale begins Black Friday, so mark your calendars!
Shop Small Saturday
Although our sale prices are good all weekend long, there's a bonus incentive for shopping from us specifically on Saturday, November 24th. Qualified American Express card users who spend $25 or more with us will receive $25 back! This is in celebration of Small Business Saturday, sponsored by American Express. It's like being paid to shop, right? All items on our site qualify for this bonus, but only on Saturday!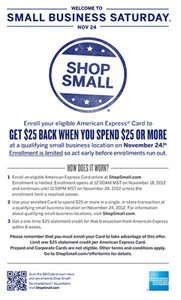 Read the official guidelines for more information.
Shipping Specials
We're also offering shipping specials just for you! Qualifying orders* ship at a flat rate of $7.50! That means if you decide to buy one G-1100 or ten, or a combination of other qualifying products, shipping for the entire order will be $7.50!
On top of that, all motorcycle and other power sports batteries have FREE SHIPPING! This means that the price you see listed for a battery is the price you pay to have it delivered to your door. Did we also mention there is no sales tax? It doesn't get any better than that!
*Exclusions may apply for large, oversize items. Flat Rate shipping is for the lower 48 states only.
Our Customer Appreciation Sale doesn't begin until the day after Thanksgiving. Black Friday marks the start of an entire weekend of great deals and savings. For American Express card holders, it will pay to shop. But nonetheless, this will be a great opportunity to treat yourself to some cool stuff, or better yet, a Christmas gift for that special someone. All, at great prices.

Was this information helpful? Sign up to Get Updates and Offers.
Written on by
Staff
with
BatteryStuff.com
Modified on
Black Friday, Shop Small Saturday, & Cyber Monday