Product Review | Shorai Charger for LFX LiFePO4 Batteries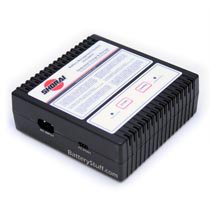 The Sho-BMS01 is a Charge/Store dedicated battery management system that is designed specifically for Shorai batteries. This charger has a 2 amp max charge rate, and it connects to your Shorai battery through the BMS 5 pin port on the LFX batteries. The charger has a selector for full charge, and for long term storage. Universal input of 100/240vac, 50/60 Hz makes this charger usable world wide.
The BMS01 Store Mode is specifically configured to maintain Shorai LFX batteries at their optimum levels during long term storage. When the Store mode is activated, the charger will bring the battery to an 80% level, and leave it there until the battery reaches 60%, at which point it will bring it back up to 80%. The 60-80% range is the ideal for LFX battery storage. The Charge mode of the BMS01 charger will bring the battery level up to 100% charge.
Features
100v to 240v ac 50/60 Hz Input

Store Mode for maximum battery life during long-term storage
Charge Mode and Long Term Storage
Battery connection cables for 6v and 12v Batteries
Dimensions: 4.5" x 4.5" x 1.5 "
Weight: 1.58 lbs
Charge Type: CC/CV 14.4 V Terminal
Output: 2 Amp Maximum
1 Year Warranty
Conclusion
Using the Shorai Sho-BMS01 charger is the surest way to see the fullest lifespan of your Shorai Lithium Iron Phosphate powersports battery, up to 7 years. It's so easy to use, and the cables fit just right into the charge port on the LFX Batteries. You may even leave one of the cables permanently attached to the battery for easy plug and play charging on the go. The charger case is not steel, but plastic and the unit is not waterproof. But it's perfect for a shop or shed, wherever you store your motorcycle during non-use. Rated ★★★★☆
Was this information helpful? Sign up to Get Updates and Offers.
Written on by
Staff
with
BatteryStuff.com
Modified on
Product Review | Shorai Charger for LFX LiFePO4 Batteries