Pulse Tech 12v QuadLink 4-Channel Charger Multiplier XC-QL4
Was: $91.00
Sale Price:

$

84.50

No Tax

BatteryStuff Part #:
XC-QL4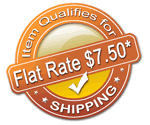 This Qualifies for FLAT RATE Shipping of $7.50 per order*
This unit is a charger multiplier! A separate charger is required for the XC-QL4 to work
Pulse Tech 12v QuadLink 4-Channel Charger Multiplier XC-QL4
Product Description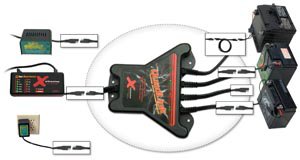 QuadLink 4-Channel Battery Charger Multiplier from PulseTech. Maintain up to four 6v or 12v batteries with a single station charger! Innovative adaptor works with ALL popular battery maintenence charger brands.
Solve the problem of power hungry vehicles and aftermarket accessories with QuadLink and turn your single station, 6/12 volt battery maintenence charger into an efficient workhorse, multiplying its charging capacity by four times!
Features
Works with 12, 24, 36, and 48 volt multiple battery packs
Easy to Use!
Automatically split and distribute 10-minute charge segments to each of four charging channels connected to up to four vehicles or battery packs!
Green LED lights will indicate which battery in the connection series is connected and being charged at any time
In the case of fewer than four battery connections, the QuadLink microprocessor adapts to the number of batteries actually connected
The QuadLink is compatible with all chargers utilizing the standard 2-pin power output connecter (8 A max. input)
5 Year Warranty
Comments
*Flat Rate shipping is for the lower 48 states only.
Most Helpful Customer Reviews

Quad link 4 channel charger multiplier

By

Anonymous

on Jun 28, 2012,

Ownership:

Just Bought,

Knowledge Level:

AC/DC is more than a band

(80 of 155 customers found this review helpful)

Pros: good

Cons: ok

Other Thoughts: I purchased this product and installed it using only 2 channels on my RV chassis and house battery banks with a 750mA battery tender. The product has been in use only a few weeks, but it appears to be doing exactly what it is intended to do.

Review Summary

4.00 Average Rating

Rated

4.00

/

5

Stars from

1

customer reviews.

Write Your Own Review

Do you own the XC-QL4? Please, tell us what you think about it. It helps us provide you with better products. Please note that it may take up to 72 hours for your review to appear.

Write a review

Technical Specifications
Length
5 1/2
Width
4 1/8
Height
1
Weight
2.45
Shipping Weight
3
Max Amps
8A
Warranty
5 Years
Model:
XC-QL4
Manufacturer:
Pulse Tech
Manufacturer Part #:
XC-QL4
Made In:
Asia
Order Line: 1-800-362-5397
M–F 6am–5pm PST

Tech Help: 541-474-4421
Fax: 541-471-6014
276 Tech Way, Suite A
Grants Pass, OR 97526