view large photo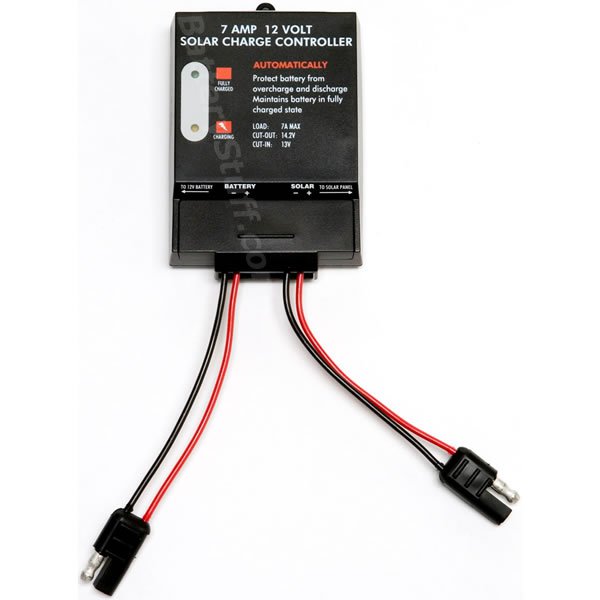 Global Solar 12v 7 Amp Solar Controller with SAE Cables GS12V7A
GS12V7A
This item qualities for
$7.50 Flat Rate Shipping*
In Stock
This Qualifies for FLAT RATE Shipping of $7.50 per order*
---
Product InformationStore Part Number: GS12V7A
Overview
A 12V 7 Amp Charge Controller protects your lead acid batteries from overcharge. This charge controller is to be used with any of the P3 or Sunlinq 12 and 25 watt 12V product line and can handle up to 100 Watts of Solar Power. Controller ships with SAE type input/output trailer plugs allowing direct connection to the solar system. The controller is designed to plug and play with the 5 piece accessory set that ship with the solar panel.
Comments
* Flat Rate shipping is for the lower 48 states only.
---
Tech Specs
Dimensions (LxWxH): 3.7 x 2.7 x 1 in
Weight: .5 lb
Shipping Weight: 1 lb
Manufacturer: Global Solar Energy
Rated Power: 100W
Operating Voltage: 14.2V
Operating Current: 7A
Manufacturer Part #: GS12V7A
Made In: Asia
---
Customers who bought this product also bought:
---
Reviews and Ratings
---
Easy to use Charger
Pros: This is an easy to use charger with no adjustments needed. It does its job. I use these in two vehicles (this my second purchase) that do not get driven very often. I would recommend using the 12v 12 Watt Sunlinq or larger as the 6 watt does not get the output voltage above 12.5 volts when used on the dual batteries in the diesel pickup. The lights (less) are easy to see and this is small enough to toss into the glove box when not in use. The folding solar panel also fits nicely in the box.
Cons: None.
Written by Red Rover on Jul 23, 2013. Ownership: Use regularly. Knowledge Level: AC/DC is more than a band — (80 of 156 customers found this review helpful
---
Manuals & Tutorials