Coleman 7 Amp Solar Charge Controller with Rings by Sunforce - 60012
Price:

$

26.00
No Tax

Not In Stock
BatteryStuff Part #:
60012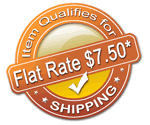 This Qualifies for FLAT RATE Shipping of $7.50 per order*
Coleman 7 Amp Solar Charge Controller with Rings by Sunforce - 60012
Product Description
The Coleman 7 amp charge controller (60012) by Sunforce is a great choice for all lead acid solar battery charging, but it is also safe for Gel cell batteries. With a maximum voltage output of 14.2V output the Coleman 7 amp charge controller will safely charge your gel cell batteries. It can handle up to 105 watts of solar power, and will protect your batteries from over charge and from over discharge. The controller comes with ring terminals for easy hook up.
Features
Protects battery from overcharge and discharge
For use with 12 Volt solar panels and batteries only (Flooded, AGM, & GEL)
Handles up to 7 amps of array current
Handles up to 105 watts of solar power
Maintains 12V batteries in a fully charged state
2 Year Warranty
Comments
* Flat Rate shipping is for the lower 48 states only.
Vehicles that 60012 works in
Most Helpful Customer Reviews

Sunforce 7 amp charge controller

By

Anonymous

on Oct 02, 2013,

Ownership:

Just Bought,

Knowledge Level:

Electricity doesn't scare me.. usually

(85 of 161 customers found this review helpful)

Pros: Good charge controller. Just put connectors on the wires, and it's plug and play. I'm using it for 12 Volt AGM Batteries.

Cons: None

Other Thoughts: None

Review Summary

4.00 Average Rating

Rated

4.00

/

5

Stars from

1

customer reviews.

Write Your Own Review

Do you own the 60012? Please, tell us what you think about it. It helps us provide you with better products. Please note that it may take up to 72 hours for your review to appear.

Write a review
Technical Specifications
Length
7 5/8"
Width
4 5/8"
Height
2 1/4"
Weight
.35 lbs
Input Voltage from Solar Panel
15-23 VDC
Output to Battery
14.2 VDC
Warranty
2 Year
Model:
60012
Manufacturer:
SunForce
Manufacturer Part #:
60012
Made In:
China
Instruction Manual

Download Specifications
Order Line: 1-800-362-5397
M–F 6am–5pm PST

Tech Help: 541-474-4421
Fax: 541-471-6014
276 Tech Way, Suite A
Grants Pass, OR 97526